Is US intelligence keeping secrets from Trump? New report finds US spies are holding back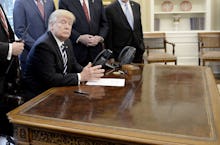 United States intelligence officials have been withholding sensitive information from President Donald Trump out of fear it will fall prey to another one of the information breaches that have plagued his administration, officials familiar with the matter told the Wall Street Journal.
According to the report, the withheld intelligence includes the methods used to acquire certain information and the identities of the sources who provide it. Officials pinpointed Trump's admiration of Russian President Vladimir Putin and his previous encouragement of Russian espionage as key motivators for the decision not to disclose the intel.
Both the White House and members of the intelligence community have denied the report's veracity.
A spokesman for the Office of Director of National Intelligence told the Journal: "Any suggestion that the U.S. intelligence community is withholding information and not providing the best possible intelligence to the president and his national security team is not true."
"There is nothing that leads us to believe that this is an accurate account of what is actually happening," a White House official told the Journal.
But Rep. Adam Schiff (D-Calif.), of the House Intelligence Committee, confirmed that he has heard from intelligence officials who have reservations about sharing the full breadth of their knowledge with Trump.
"I've talked with people in the intelligence community that do have concerns about the White House, about the president, and I think those concerns take a number of forms," Schiff told the Journal. "What the intelligence community considers their most sacred obligation is to protect the very best intelligence and to protect the people that are producing it."
Weeks of leaks
Since Trump was sworn in as president on Jan. 20, information has been flowing steadily from the upper echelons of his administration, from benign reports about holding meetings in the dark after not being able to locate a light switch to more damning allegations of contentious phone calls with heads of state.
Most recently, leaks relating to former U.S. National Security Adviser Michael Flynn's inappropriate communication with Russia regarding Obama administration-imposed sanctions forced Flynn to resign.
Rather than turning introspective in response to the information being made public, Trump has lashed out at the media, blaming it for leaking the information "illegally" as a "[coverup] for a terrible loss that the Democrats had under Hillary Clinton." 
Mark Lowenthal, a former senior intelligence official, said that the characterization of the leaks as partisan politics makes him anxious about the fate of the nation.
"This is not about who won the election," Lowenthal told the Journal. "This is about concerns about institutional integrity. It's probably unprecedented to have this difficult a relationship between a president and the intelligence agencies. I can't recall ever seeing this level of friction. And it's just not good for the country."