Kanye West Yeezy Season 5: What the critics are saying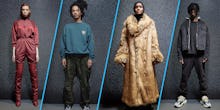 Kanye West's Yeezy Season 5 runway show seemed plagued with woes from the moment it was first announced. After poorly received shows for his last two seasons, West had a lot to try to earn back by way of fashion credibility. After spending a week in the hospital in November for exhaustion and a controversial meeting with President Donald Trump back in December, Kanye West, the brand, had taken a beating.
On Feb. 2, a week before the official start of New York Fashion Week, West was booted from the NYFW official schedule by the Council of Fashion Designers of America, citing "bad behavior," due to West's lack of going through the proper channels to schedule his show.
Many wondered, would West defy the CFDA and keep his show in the same time slot as Marchesa, forcing editors and buyers alike to choose which show to attend? Thankfully, West soon caved to the CFDA's demand that he move the show, calling CFDA president Steven Kolb personally to reschedule, according to Women's Wear Daily.
And on Wednesday afternoon, at Chelsea's Pier 59 Studios, West finally unveiled the highly-anticipated, shrouded-in-mystery collection. So how did Yeezy Season 5 fair with critics? Surprisingly well.
The Cut's Véronique Hyland applauded the less bombastic approach:
There was no WWE-style introduction of a band of fur-clad Kardashians, no video-game demo, just a collection on display. It felt like West was recognizing his past critics and settling down to focus on the clothes. It was a canny plumbing of fashion's mood right now, one that has cooled slightly on spectacle and celebrity worship. You see it in designers dropping out to show in outposts outside Fashion Week, or finding ways to show off the runway, and in the diminished wattage of the front rows.
Glamour's Noah Silverstein praised the collection's cohesion and originality:
The clothes deviated from the typical Yeezy uniform of dystopian colors, skin-tight bodysuits and leggings. There certainly were elements of activewear (again, it's Kanye), including hoodies, sweatpants and oversize windbreakers, but they were much more deftly formulated into a collection that looked more thoughtful, cohesive and, for the first time, original.
Women's Wear Daily's Jessica Iredale called the collection "refined":
It seems Kanye West's perceived karmic comeuppance after a disastrous Yeezy Season 4 last September yielded to a Yeezy Season 5 that was, comparatively, a picture of refinement.People who might have expected him to stumble again were pleasantly surprised. West checked all the professional boxes this time, without abandoning that Yeezy swagger. He ceased his collaboration with Vanessa Beecroft, at least for this season, which immediately toned down the gimmicks by half. 
Fashionista's Maria Bobila found it to be a step-up from past collections:
As for the clothes, they were actually wearable. (Read: Not new or original, but certainly a more practical and thought-out compared to past collections.) 
Man Repeller's Haley Nahman recognized West's growth:
One thing is clear: West understands the power of hype, and now he's doubling down with the help of an equally powerful force, mystery.