#BeingBlackAndMuslim highlights the complexities of this dual identity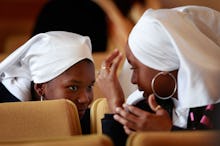 Black Muslims created the #BeingBlackAndMuslim hashtag this week, where social media users honored their history, shared their personal stories and talked about the complexities of their intersectional identities.
In dozens of tweets, Black Muslims talk about facing anti-black and Islamophobic sentiments and violence. Other black Muslims say that their community is rendered invisible or underrepresented in media coverage of Islam. Take a look at several of the tweets.
Black Muslims are one of the largest communities within Muslims in the United States, according to Pew Research. In fact, some of the first Muslims to ever step foot on American soil were black.