Mel Gibson directing 'Suicide Squad 2' wouldn't make any sense at all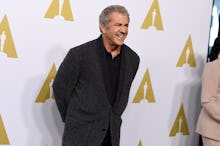 Warner Bros. is currently dealing with some behind-the-scenes Batman drama after reports surfaced that Ben Affleck not only wants out of directing The Batman, but out of the role entirely. But this chaotic period hasn't stopped Warner Bros. from approaching the image-plagued Mel Gibson to direct Suicide Squad 2. 
According to an article in the Hollywood Reporter, Gibson is on a short list of directors being considered to tackle the sequel. The good news: Nearly any director would be an improvement over David Ayer, whose supervillain ensemble was a critical failure, and whose childish behavior toward the competition didn't do much for his own image. Let's also not forget that Suicide Squad's faults were underscored by the fact that Jared Leto was method acting for a few minutes of screen time.
But for real, you're considering Mel Gibson? That is a comically bad choice for many reasons — and, perhaps, one of the few options that is somehow worse than Ayer. Here's why. 
Critical of superhero flicks 
Maybe a prerequisite for directing a superhero film should be actually enjoying the genre? Superhero fatigue is a very real thing, but your ostensible Suicide Squad 2 director shouldn't have it. Seriously, Gibson is not a fan of Batman v Superman: Dawn of Justice (to be fair, he's not alone in his opinion), or of superhero movies as a whole. 
"It's a piece of shit," Gibson told Deadline about the movie back in November. "I'm not interested in the stuff. Do you know what the difference between real superheroes and comic book superheroes is? Real superheroes didn't wear spandex. So I don't know. Spandex must cost a lot." 
The religious overtones 
While Gibson has directed some critically acclaimed action films (see: Braveheart and this year's Oscar-nominated Hacksaw Ridge) and is comfortable behind the camera, the religious overtones that surround his films wouldn't mesh well with DC Comics' campy supervillains. 
In fact, if Gibson funded his own movie about the death of Jesus Christ, imagine how he'd feel about the Jesus symbolism surrounding Superman in Man of Steel and Dawn of Justice. 
A horrible human being 
Gibson has infamously used the n-word, made anti-Semitic remarks, homophobic comments and called a police officer "sugar tits," among other similarly awful things. 
Meanwhile, if there's one silver lining of Suicide Squad, it's that it has a diverse ensemble cast with several characters who are people of color (Deadshot, Amanda Waller, El Diablo, Killer Croc). Harley Quinn is also canonically Jewish and has had romantic relationships with female characters in the DC Comics universe.  
Please, Warner Bros., look somewhere else for your next director. 
Mic has ongoing coverage of Suicide Squad. Please follow our main Suicide Squad hub here.