Selena Gomez is unbothered about cutting off her ex on new mellow pop anthem "It Ain't Me"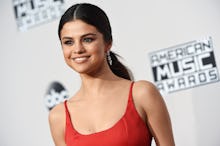 Pop princess Selena Gomez has returned with new solo material. "It Ain't Me," a song produced by Norwegian DJ Kygo, is a chill midtempo jam about a relationship that has run its course. 
In the song, Gomez finds her former loyal partner no longer brings anything to the table. The lazy lover stays out late without her, and the two no longer see "eye to eye" anyway, so Gomez is chucking the deuces. Listen to the full track below.
"No, I don't wanna know where you been or where you're going/ But I know I won't be home/ And you'll be on your own," she sings, in lyrics via Genius.
The track is a mature take on owning the goodbye instead of waiting around for an even sadder end. Kygo laces Gomez with a newer sound for her, adding to the trend of stripped-back Caribbean-influenced pop sounds that ruled the airwaves in 2016. 
The former flame she sings about is someone Gomez knew since her teenage years. This has already sparked rumors that "It Ain't Me" is about her ex-boyfriend Justin Bieber, whom Gomez dated on and off between 2011 and 2014.
"I had a dream/ We were back to 17/ Summer nights and the liberties/ Never growing up," she reminisces on the track.
"It Ain't Me" comes days after her new love interest, the Weeknd, was featured on the song "Some Way" by Nav. This prompted speculation on Twitter that the song took aim at Bieber because of its lyrical content. Gomez has kept quiet about all of the he said, she said, but the gossip is bringing attention to her latest music work.
Gomez is expected to drop a new album this year, although she hasn't given a release date yet. Her last album, Revival, was released in late 2015. Last year, she released visuals for singles from Revival including "Kill Em With Kindness" and "Hands to Myself." She was also featured on Cashmere Cat's "Trust Nobody" with Tory Lanez before the year closed out.
"It Ain't Me" is available for purchase on iTunes.
Mic has ongoing coverage of Selena Gomez. Please follow our Selena Gomez hub here.