9 times New York Fashion Week got political this season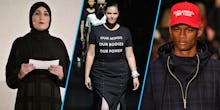 Even before New York Fashion Week began last Wednesday, it was evident politics would be a major theme throughout the week. Fashion shows have gotten political in the past, but something felt different this time around. It felt more pressing, urgent and necessary. 
Pins announcing fashion's support of Planned Parenthood were going to be passed out at all the major shows. Designers had started speaking out against the Trump administration and its policies regarding women and immigrants. 
At several shows, designers made sure to mix fashion with politics, with models walking out in pointed statement T-shirts or even guests giving speeches. Over the course of the nine official days that comprise NYFW, politics was as much a trend as the Trainspotting bob.
Here are all the times fashion got political during New York Fashion Week this season, perhaps setting a precedent for seasons to come. 
Prabal Gurung's feminist statement T-shirts 
Prabal Gurung is known for his flirty and elegant gowns, with plenty of sparkle and sheen. And while those dresses did appear at his runway show at NYFW, for the finale, Gurung decided to switch it up a bit, giving all the models a statement T-shirt to wear with a skirt. 
On those statement T-shirts read different political slogans, from "We will not be silenced" to "I am an immigrant" to "Love is the resistance" to "The future is female," which seems to be borrowed from a T-shirt from Otherwild. 
There was even a T-shirt that read "Nevertheless she persisted," which are the words that Sen. Mitch McConnell (R-Ky.) used to reason his silencing of Sen. Elizabeth Warren (D-Mass.). 
Tommy Hilfiger's white bandanas 
Similarly to Gurung, Tommy Hilfiger also waited until his models' finale walk to make his political statement. For the models' final stomp down the runway in Los Angeles, they all wore a white bandana around their wrists, which were part of a campaign called #TiedTogether that encouraged people to wear white bandanas as a statement on human unity. 
"I'm just focused on what we're trying to do with our brand, which is disrupt," Hilfiger told the Hollywood Reporter.  
In addition to Hilfiger, designer Thakoon also chose to wear the white bandana for his show as well. 
LRS's cheeky political underwear 
Didn't think political statements could still be powerful when they're written across a bum, did you?
Well it's 2017, so here we are. At the LRS New York show at NYFW, several different models backstage flaunted their large white underwear with political slogans written across the backside. On one, it read, "Fuck your wall." On another: "No ban no wall!!!" 
Perhaps in 2017, underwear will be the new protest sign.
Public School's take on the Make America Great Again hats 
For months now, artists have taken Donald Trump's Make America Great Again hat and had their fun with it, creating hats that look similar but read things like "Black Lives Matter" or "Make America Native Again." 
Public School's show marked the first time a high fashion designer has looked for inspiration in the MAGA hat to make a statement though, and what a statement it was. Several models walked the runway in red hats and red shirts that read "Make America New York," a nod to a city where people of all genders and background and races mingle in harmony. Some models also wore jackets with "We need leaders" printed across the back, which was probably a nod to you-know-who as well. 
Naeem Khan's moving Maya Angelou moment 
Naeem Khan, an immigrant himself from India, hasn't kept silent these past few months as the Trump administration has moved into the White House. He's openly refused to dress Melania Trump, and spoken out against Trump's immigration ban. 
At the end of his show at NYFW, Khan decided to get political once more, sending a lone model down the runway in what looked like an ornate wedding gown as a recording of Maya Angelou's poem "Human Family" played. 
It's a poem that celebrates differences. 
Mara Hoffman's spotlight on the Women's March on Washington 
Designer Mara Hoffman was so inspired by the Women's March on Washington, which she attended in January, that she wanted to bring a piece of it to her own runway show at New York Fashion Week. 
So on Monday, before a single model took to her runway, Hoffman had the organizers of the march — Bob Bland, Tamika Mallory, Carmen Perez and Linda Sarsour — give speeches about female power and unity.
Then, after the models took the stage, they danced about as Maya Angelou's poem "Phenomenal Woman" was read aloud. 
Apparently Maya has had quite the week. 
Gypsy Sport's diverse activist runway 
From its inception, Gypsy Sport's brand has been about celebrating diverse people from all backgrounds and different shapes and sizes and genders. During its show on Sunday, it was about that once more, but it came with a much more pointed message. First, the models themselves weren't all models, with some being activists and protesters Gypsy Sport's designer Rio Uribe had meant at rallies across the country. 
And before the show started, Uribe offered a message of his own, telling the crowd: 
To those who can hear me, be optimistic. There's a cloud of hate that is now upon [us] but is passing: the hate of men who fear what we can do when we get together. The hate of men will pass, and dictators die, and the power they took from the people will return to the people. It's people [who] have the power to make this life free and beautiful, to make this life a wonderful adventure.
Christian Siriano's subtle but powerful T-shirt 
The T-shirt designer Christian Siriano sent down his runway on Saturday shouldn't be political, but really a fact. "People are people," it read in bold block lettering. 
But in a political climate so divided over seemingly the most basic human rights and virtues, that statement is unfortunately political. 
The T-shirt itself is already on sale, with all profits from the $25 shirt going toward the ACLU. 
Creatures of Comfort's similar call for unity
Much like Siriano, this Creatures of Comfort T-shirt shouldn't have to be political either, because it is a fact. "We are all human beings," some shirts read on the Creatures of Comfort runway. 
And similarly to Siriano, these T-shirts are already for sale, with 50% of proceeds going towards the National Immigration Law Center. 
"It's kind of a reaction to what's happening right now," founder Jade Lai told Vogue. "I thought it was a good way to bring positivity to what's going on." 
This season, political statements came big and small, from bandanas to T-shirts to speeches. But in a time such as this one, not one felt too small. Any hint of wanting unity rather than division — and peace rather than war — felt welcome from a community clearly still trying to process what this administration has in store for us all.