These were the 7 most explosive moments in the latest 'Grey's Anatomy' season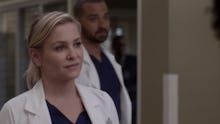 Grey's Anatomy fans freaked out a bit when the season 13 winter premiere was delayed. With such a cliffhanger for the fall finale, who can really blame them? (C'mon, Alex and Meredith!) Season 13 was ripe with dramatic tension, so much so that it's worth cataloging the most explosive moments so far. 
Here are the seven times when the histrionics were almost too high to handle:
Alex's felony charge
Season 13 picks up where season 12 left off. We're reminded that Alex beat up DeLuca because he thought DeLuca was forcing himself onto Jo. He was just trying to help... right? 
Well, the court didn't see it that way and that's how his journey as a criminal begins. Alex must face real consequences for beating the bejesus out of DeLuca: a felony assault charge. It doesn't help that DeLuca thinks Meredith is threatening him when they find themselves in an elevator together.
A patient comes back to life
Remember when Georgia was declared dead in episode three? So much for a final place of rest. She jolts back to life — and that's a medical miracle we cannot ignore. (Even if, say, delivering the child of a shackled female inmate also is pretty dramatic.) Welcome back, Georgia! 
Amelia's pregnancy scare
When Amelia's period is late, she thinks she's pregnant. But this isn't happy news for her. She's so disturbed that she won't even take a pregnancy test right away. We later find out she doesn't want to have another baby because of the trauma that came from losing her first child. Oh, yeah, and Owen never even knew that Amelia gave birth before.
Eliza's arrival
The hospital staff gets so tense when Eliza, an outside consultant, comes around. She's not just there to inspect protocol; she's there to shake things up. For the most part, the residents love the idea, but it's the senior staff who worries someone's about to get a pink slip. 
Jo's confession
In episode nine, Jo tearfully confesses to Alex that she is married to an abusive man. She kept it from Alex because she was afraid he would beat up her husband and end up in jail. (How ironic.) Alex takes a plea deal so Jo doesn't have to testify in court and risk her husband finding her. 
Meredith's voicemail
This is the (latest) move that makes viewers wonder if Alex and Mer are going to end up together. Alex isn't home to take Meredith's call because he's waiting to enter his plea. But boy oh boy, doesn't the tone of Meredith's voicemail sound like a romantic declaration? 
Alex in Meredith's bed
Fast-forward to episode 11: How come Alex is in Meredith's bed? Why isn't he in jail? It turns out DeLuca is kinder than we ever knew. He called off the trial because he didn't want Jo to suffer. Maybe a bit of a deus ex machina, but we can't say it's not dramatic.