'Arrow' season 5, episode 14 spoilers: What will happen in "The Sin-Eater"?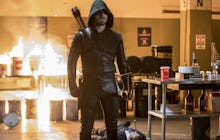 Season five, episode 13 of Arrow was a noticeable departure from the normal themes seen in the CW's franchise-launching series. In "Spectre of the Gun," Arrow entered the gun control debate in what was easily the most politically focused episode of the series' five seasons.
On Feb. 22, Arrow will return more or less to its roots with season five, episode 14. The episode, titled "The Sin-Eater," is set to feature the reappearances of three villainesses from prior seasons: China White, Cupid and Liza Warner. While Cupid (a former Task Force X member) and Liza Warner showed up during season four, it has been quite a while since we saw China White. 
White, who is played by Kelly Hu and originally appeared as an assassin for the Chinese Triad in season one, has not appeared on the show since the season three flashbacks. In "The Sin-Eater" it appears that the three will escape from Iron Heights, though the Green Arrow will face his own problems with the city's police. 
To hold you over until next week, here is the synopsis for season five, episode 14, via Flickering Myth: 
China White (guest star Kelly Hu), Cupid (guest star Amy Gumenick) and Liza Warner (guest star Rutina Wesley) break out of Iron Heights and head to Star City for revenge. Oliver (Stephen Amell) tries to bring in the newly formed girl gang, but the ACU intervenes mid-fight. To his surprise, they are there to arrest the Green Arrow for the murder of Detective Malone. Meanwhile, Lance (Paul Blackthorne) feels responsible for the prison break after Warner tells him she heard about him working with Damien Darhk.
Still need a little more Arrow before next week's episode? Check out the extended promo for "The Sin-Eater" below: 
Season five, episode 14 of Arrow, titled "The Sin-Eater," will air Wednesday, Feb. 22 at 8 p.m. Eastern on the CW. 
Mic has ongoing coverage of Arrow. Please follow our main Arrow hub here.