When will 'Scream' season 3 premiere?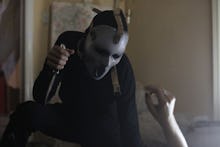 Scream, the MTV adaptation of Wes Craven's hit horror movie franchise, was renewed for a six-episode third season in October, but unfortunately, no other details have been released. But that won't stop us from speculating about when the new installment will air.
Scream season three premiere date speculation
MTV has not announced a premiere date for season three yet. But based on the timing of its previous two seasons, the series could heat up over the summer or in October in anticipation of Halloween.
Cast members have not posted anything on social media about returning to set, and, if a summer premiere is on the books, the timing may be tight. In 2016, pre-production on the second season of Scream began on Jan. 4. New episodes premiered on May 30.
Where the series left off
Scream last left off with a two-hour Halloween special that aired on Oct. 18. The special killed off Kieran, who was identified as Piper's serial killer accomplice in season two. But the death of Kieran didn't mean that the Lakewood teens were safe. The teens spent Halloween weekend at a mansion on Shallow Grove Island, where they became caught up in another mystery as the show hinted that Brandon James, the disfigured mass murderer from years ago, may be returning. 
Scream, which was created by Jay Beattie, Jill E. Blotevogel and Dan Dworkin, premiered June 30, 2015 and garnered reviews that ranged from mediocre to negative. Despite the mixed reviews, the series still developed a strong fan base. Inspired by the 1990s movie, the show focused on producing a more modern storyline that included present-day technology and cyberbullying.
The pilot drew 6 million viewers, which ranked as the most-watched new series premiere on cable with millennials. Season one averaged 750,000 viewers. 
The second season, which was promised to be "bloodier than ever," averaged 380,000 viewers. The drop in viewership sparked fears that the show would be canceled. One viewer went as far as to create a Change.org petition asking Netflix to "save" the show.
Mic has ongoing TV coverage. Please visit our main TV hub.