A brief history of the roller coaster of emotions that are 'Time' magazine's Trump covers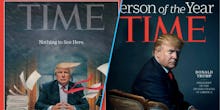 Time magazine released its latest edition on Thursday, featuring a windblown President Donald Trump on the cover. The commander-in-chief is shown sitting calmly and confidently at his desk in the Oval Office amid a storm blowing away his papers, his hair and his tie (which doesn't appear to be taped together this time). 
"Nothing to see here," reads the caption. 
The cover nods to Trump's "this is fine" attitude toward the chaos that has colored the first three weeks of his presidency. 
This week alone, now-former National Security Adviser Michael Flynn resigned after lying about his communications with Russian diplomats, news broke that phone records and intercepted calls Trump's campaign staff had been in contact with Russia during his presidential run and Andrew Puzder withdrew his nomination for labor secretary following resurfaced domestic abuse allegations. 
Trump insisted that "illegal leaks" to the media were the "real story" to arise from the multiple scandals — not his dysfunctional administration.
Time's cover dealt a harsh blow to Trump and his staunch insistence that he's doing a fine job and his agenda is going over like gangbusters. But of course, it was just a few months ago when the magazine had dubbed the then-president-elect its Person of the Year.
At the time, many readers suspected Time might be sending a secret message with its cover  — devil horns formed by the "M" in "Time" perfectly positioned over Trump's head.
Time responded to the speculation with a list of 36 times its magazine covers "appeared to give people devil horns." Given that the list included everyone from Hillary Clinton to Vladmir Putin to multiple popes, it seemed unlikely editors at Time were making the radical statement readers thought they had with Trump's Person of the Year cover.
Over the course, of Trump's presidential campaign, Time sometimes portrayed Trump as explosive, volatile and prone to meltdowns.
In December, Vox wrote that Time's "meltdown" covers paired with its subsequent Person of the Year cover told a better story about 2016 "than any words could."
If nothing else, that Time's editors can't seem to decide what prevailing image of Trump they want to convey speaks to the emotional roller coaster of Trump's rise to the presidency — and the difficulty of grasping just where our country is headed.