'Super Smash Bros.' for Nintendo Switch Release Date: Why we may have to wait until 2018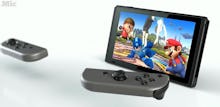 Super Smash Bros. 4 on the Nintendo Switch still hasn't been confirmed, but it pretty much needs to happen. The Smash Bros. series is a popular one for Nintendo, having sold 10 million units of the latest games on Wii U and 3DS, and it could certainly help move Switch units as well.
While Smash Bros. 4 is only in HD on the Wii U, many more people have bought the game for 3DS; the Nintendo Switch version would allow for both high-quality graphics and on-the-go gameplay in one package. Nintendo of America's president Reggie Fils-Aime has already all-but confirmed it. So when the heck can we expect Smash Bros. on the Switch?
Super Smash Bros. for Nintendo Switch: Don't expect a 2017 release date.
2017 is set to be a big year for Nintendo. Along with the launch of the Switch, Nintendo has first-party titles like Zelda: Breath of the Wild coming in March, Mario Kart 8 Deluxe launching one month after, Splatoon 2 arriving this summer and Super Mario Odyssey closing out the year this holiday season. All this is without mentioning totally new Nintendo games like Arms and 1-2 Switch.
But let's look to the past: While the Switch is technically a portable game console, Nintendo is replacing the Wii U with this thing. The company generally releases 10 to 14 games for their main console per year, though the Wii U only got four games in its first year after launching in Nov. of 2012. And only one (New Super Mario Bros. U.)  can really be considered a major franchise title.
Based on this pattern, we can expect between 10 and 14 Nintendo games for the Switch in 2017, but just three high-profile titles based on major existing franchises. Those slots are already filled by Zelda, Mario Kart and Splatoon, suggesting a Super Smash Bros. launch could be pushed back to 2018.
Super Smash Bros. for Nintendo Switch: An easy port?
It's also important to consider that Super Smash Bros. 4 isn't a new game. While nothing has been confirmed, it's likely that — similar to Mario Kart 8 Deluxe — Smash Bros. will be brought over in its Wii U form with a few new features. In that case, bringing Smash to the Switch would be less a question of the work required and more an issue of spacing out Nintendo's release lineup to keep hype levels for the console at a maximum. 
After all. Why release the port now when the company can pack Smash Bros. 4, Fire Emblem and Pokémon Stars (potentially) into its 2018 lineup? Nintendo clearly has something to prove with the Switch in the wake of the Wii U, but making a successful console is a marathon, not a sprint. 
More Nintendo Switch news and coverage
Check out our comparison photos sizing up the Switch to the Wii U GamePad, along with details on the console's price, release date, preorders, battery life and our hands-on review. If you're interested in the Nintendo Switch's games, here's info on the new Super Mario Odyssey, Legend of Zelda: Breath of the Wild, Splatoon 2, Xenoblade Chronicles 2, 1-2-Switch and the goofy boxing game Arms.