'Overwatch' Season 3 Rewards: End date and end-of-season prizes announced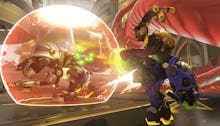 Blizzard finally announced the end date for season three of Overwatch's competitive season: Feb. 21 at 4:00 p.m. Pacific time. That means you only have a few more days to rack your skill rating up to nab as many end-of-season rewards as you can.
If you need a refresher, here are all the rewards you'll earn at the end of Overwatch season three.
Overwatch season 3 rewards
For finishing your placement matches, you'll get a Volskaya-themed spray and player icon. If you cracked into the top 500 ranking at any point in the season, you'll earn an animated version of that spray and an extra player icon.
You'll also earn a chunk of competitive points based on the highest skill rating you achieved throughout the season. Here's the breakdown of points, straight from Blizzard:
SR 1-1499 (Bronze): 100 CP
If you need a reminder, you can use these competitive points to purchase golden weapons for each character, which cost 3,000 points each. You can only carry a total of 6,000 competitive points at a time, so make sure you've got enough room in your inventory for your end-of-season reward.
Blizzard said it'll announce more about season four of competitive play, which is scheduled to start on Feb. 28, in "the coming weeks." Stay tuned.
More Overwatch news and updates
For more on Overwatch, check out the rest of what Mic has to offer. Here is a list of our predictions for what seasonal events might appear in 2017, a look at a very funny, but naughty meme on the Overwatch subreddit, an interview with the creator of an awesome new Overwatch zine, the full patch notes for Overwatch version 2.03, a full explanation of the different types of health in Overwatch, our definitive ranking of every Overwatch hero, a roundup of awesome gender-bent Overwatch cosplay and a giant Overwatch FAQ for beginners.