Mick Mulvaney barely got confirmed as Trump's budget director. McCain voted against him.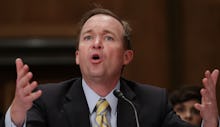 Mick Mulvaney was confirmed by a two-vote margin Thursday morning to become the White House budget director. In a 51-49 vote, the conservative Republican congressman from South Carolina drew the support of all Republicans except Sen. John McCain (R-Az.), who expressed concern over Mulvaney's past comments about cutting America's defense budget. 
Mulvaney is a co-founder of the House Freedom Caucus, a group of conservative congressmen who have pushed to shut down the federal government instead of increase the federal debt. He came under criticism during his confirmation hearing for revealing he did not pay $15,000 in taxes for a nanny.
Mulvaney takes over an Office of Management and Budget that Trump White House has not yet fully staffed, failing to submit nominations for several key positions, according to Politico.
The South Carolina Republican is a staunch opponent of any new government spending. In the past, Mulvaney held prayer sessions over whether to push the U.S. into default by not raising the debt ceiling.