Who is Stephen A. Feinberg? Meet the billionaire Trump reportedly picked to assess US intelligence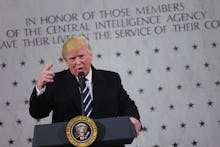 President Donald Trump further ruffled feathers in some quarters of the intelligence community after reports that billionaire businessman Stephen A. Feinberg — a man with little to no intelligence experience — will lead an assessment of America's intelligence agencies. 
Administration officials confirmed the rumors to the New York Times Wednesday. The same officials also reportedly said it's a decision that "members of the intelligence community fear could curtail their independence and reduce the flow of information that contradicts the president's worldview."
Feinberg is co-founder and CEO of private equity firm Cerberus Capital Management. He is already part of Trump's team, serving on his economic advisory council, and was also a major donor to Trump's presidential campaign. But Feinberg, as noted, has no previous experience with gathering intelligence, the associated agencies or how they are run.
Before starting Cerberus in 1992, Feinberg traded "pools of capital" for various firms, including Gruntal & Co from 1985 to 1992. 
Incidentally, Gruntal ultimately became two shell companies that filed for bankruptcy in 2002. While that was a decade after Feinberg left, its operations tell a "sordid tale of greed, mismanagement and questionable dealings that stretches back to the firm's early years," Fortune reported in 2003.
Feinberg told Cerberus shareholders he was considering leaving for a new role in the White House, the firm announced on Feb. 2. 
The news comes as enmity between Trump and the intelligence community grows. On Wednesday, the Wall Street Journal reported that intelligence officials have been withholding some intelligence from Trump over concerns "it could be leaked or compromised."
Trump, as he is wont to, responded via Twitter. 
He blames these agencies' alleged intelligence leaks to the media for the resignation of his national security advisor, Mike Flynn, who had prohibitive communication with the Kremlin:
The appointment of Feinberg — who is cozy with both Trump adviser Jared Kushner and chief strategist Steve Bannon — to investigate intelligence agencies would invariably widen the already embittered divide between the intelligence community and the White House. 
Mic reached out to the Central Intelligence Agency, State Department and Homeland Security, each of which either directed us to the White House or declined to comment. The White House did not respond to Mic's request by the time of this article's publication.
The Defense Intelligence Agency, however, explained in an email why it didn't want to discuss the news: "You're asking us to speculate... not something we do."