'Fist Fight' movie reviews: Here's what critics are saying about Tracy Morgan's new film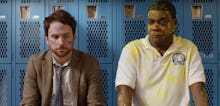 After Valentine's Day weekend saw the release of three high-profile films — Fifty Shades Darker, The Lego Batman Movie and John Wick: Chapter 2 — each of which made a decent splash at the box office, Presidents' Day weekend is expected to be quite slow. The three new releases likely vying for second at the box office behind The Lego Batman Movie are A Cure for Wellness, The Great Wall and Fist Fight. 
While none of these films appear to be wowing critics ahead of release, Fist Fight — starring Charlie Day, Ice Cube and Tracy Morgan — is looking like an easy punching bag for reviewers. The movie, which is about two teachers who, well, prepare for a fist fight, has just a 22% on Rotten Tomatoes as of this writing. While that only includes nine reviews so far, the film's average rating of a 4.8 out of 10 is less than promising. 
Fist Fight appears to be yet another miss for Day, who has starred in a string of critically dismissed comedies. If you're still on the fence about heading to the theaters to see Fist Fight, here are some of the early reviews to help inform your decision. But honestly, if you want to see it, you may want to skip ahead to the trailer below. 
Tom Russo, Boston Globe: 
The movie works best when it finds a balance between flatly familiar and over-aggressively unexpected. We're good with the preposterous brawl and its riotously inappropriate talent show lead-in. Beyond that, give this one an average grade.
Bill Goodykoontz, Arizona Republic: 
But 'Fist Fight,' in which Day plays mild-mannered teacher Andy Campbell, challenged to a fight by his hot-tempered colleague Strickland (Ice Cube), doesn't afford Day — or Ice Cube — enough opportunity to find laughs.
Ignatiy Vishnevetsky, AV Club: 
It's a quintessential latter-day studio comedy, in that the premise gets completely lost in self-actualization subplots that nobody (filmmakers included) gives two shits about and that the characters do a lot of pointing.
Roger Moore, Movie Nation: 
'Fist Fight' offers us Charlie Day in a leading role in all his screeching glory. And who the hell wants to see that? Or hear it?
Fist Fight hits theaters Friday. 
Mic has ongoing coverage of movie reviews. Please follow our main movie reviews hub here.