'The Division' Update 1.6 Release Date: When does this major patch come out?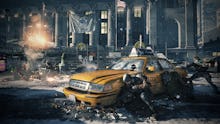 For Honor and Ghost Recon Wildlands may be Ubisoft's biggest new games, but don't sleep on The Division. The open-world shooter RPG has been steadily adding new content and making wholesale changes since its release in early 2016. 
The next update, The Division version 1.6, will add tons of new things to do when it launches alongside the Last Stand expansion. Here's everything you need to know about the update.
The Division Update 1.6 Release Date: Coming soon...
Unfortunately, we don't have an exact release date for The Division patch 1.6 yet. The public test server running the update concluded on Feb. 10. So it could theoretically launch any time now. In the meantime, you should probably hop into the game and beef up your character as much as possible for the challenges that lie ahead.
Update 1.6 is a comprehensive patch that expands the game world for free. Specifically, it will add a whole new northern wing to the PvP Dark Zone, with plenty of new enemies to fight and opportunities to stab your friends in the back for loot. However, the player count in each Dark Zone instance will remain the same, meaning players will be spread out a little more and it'll be easier to chill out and kill AI enemies if you want. 
It also brings plenty of new gear and a new legendary difficulty, which updates certain missions in the game with completely different, more challenging enemy types. Again, this will be paired with the launch of the Last Stand expansion, which brings an all new PvP domination multiplayer mode that takes place in the Dark Zone.
We'll let you know as soon as Ubisoft announces a release date for The Division patch 1.6 and Last Stand.
More gaming news and updates
For more gaming news, check out the latest from Mic. Here's a collection of cute Overwatch-inspired Valentine's Day cards, 15 photos that compare the Nintendo Switch to the Wii U and other gadgets, a beginner's guide to For Honor and a deep dive into the new trend of Nazi-punching video games.