Camila Cabello reveals she hasn't spoken to the rest of Fifth Harmony since going solo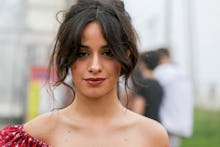 Camila Cabello covers the latest issue of Billboard magazine and revealed she has not spoken to the rest of Fifth Harmony since going solo. 
Last December, Cabello abruptly announced she was no longer in harmony with the rest of the girl group and departed from the band. She revealed to the magazine that since leaving the group she has tried to get in touch with Dinah Jane, Normani Kordei, Lauren Jauregui and Ally Brooke, but it didn't go well. 
"I did, yeah," she told Billboard. "I don't want to get into the details of that, because it was really intense and it's hard for me to talk about. It makes me sad."
Cabello, whose first solo album is due out this year, has found success post-Fifth Harmony. Her song "Bad Things" with Machine Gun Kelly reached No. 4 on the Billboard Hot 100 chart. 
The singer also spilled that the relationship between her and the other girls was at times tense, and admitted she "rocked the boat" when it came to their dynamic. For her, it came down to authenticity, and she wasn't OK with singing other people's songs. 
"I don't know. I was always super open that I couldn't just sing other people's words and be totally happy with that," Cabello told Billboard. "You have to follow and honor that inner voice. I always encouraged the girls to do the same." 
She hoped the other girls would support her solo dreams, but it seems there wasn't much unity. "I hoped that it would be a peaceful turning of the page and we would root for each other," she told Billboard. "But I only got love for them."
Cabello crushed the dreams of the band's very fervent fans, called Harmonizers, by going solo. But for her, exploring a singing career outside of the group was the next step, and she's aware she's going to be harshly critiqued. "I know people will try and turn this into, 'Is she going to be more successful outside the group?'" Cabello said — but for her, if she's growing as an artist, that's the real success. 
Here's hoping one day the girls can harmonize once again. 
Mic has ongoing music coverage. Please follow our main music hub here.