People want South Carolina schools to stop using textbooks that teach Islam to students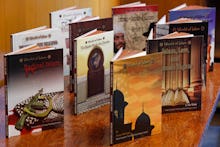 South Carolina has become a new battleground for people who want to wipe Islam from children's textbooks. 
The Department of Education in South Carolina has received numerous complaints about social studies curriculum for sixth graders, which includes lessons on the basic fundamentals of Islam, the Charleston Post and Courier reported.
"Up until the past week, we've never received a single complaint on them," Ryan Brown, spokesman for South Carolina's education department told the Post and Courier. "It's the current political climate, but we can certainly understand parents being concerned. … With some of the rhetoric that has been going on in the news, they're thinking about those types of things."
Earlier in February, a student's parent at Alston Middle School complained to a local television station that their child's class was assigned a worksheet about the Five Pillars of Islam. The worksheet was a lesson on the religion's basic tenets and is a common lesson for world history courses.
"The Five Pillars are in the standards, and that seems to bother some people so that's something we're looking at very closely," Brown said. The state's standards also call for teaching the Torah and the Bible.
Islam has been a part of South Carolina's sixth grade social studies standards for six years, according to Brown. Islam is mentioned far less than Christianity in the textbooks.
Brown said most of the outrage on social media is not coming from people within the state of South Carolina.
"The majority of our Facebook and Twitter comments were from people in Texas and Oklahoma and they tended to be right-wing activists, not that there's anything wrong with that," Brown said.
The anti-Muslim crusade against "Islamic indoctrination," as Mic reported in October 2016, has been going on for several years in states like Tennessee, Texas, Pennsylvania and California. Conservative organizations like ACT! For America, a designated hate group by the Southern Poverty Law Center, launched textbook reform initiatives across the country to remove Islam from Tennessee's social studies standards.