What Melania Trump wore her fourth week as first lady — despite not wanting to be first lady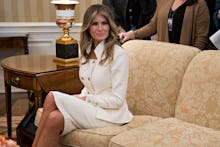 Another week of the Trump administration, another week with a few glimpses of Melania Trump to assure use that she is still our first lady, despite her reported unhappiness in the role. 
This week was particularly action-packed, with two visits from prime ministers and their wives. First was Japanese Prime Minister Shinzo Abe and his wife, Akie Abe, and then Israeli Prime Minister Benjamin Netanyahu and wife Sara Netanyahu. 
The visitors meant Trump was out and about more. She must have hated it. 
What we learned from this week, however, is that while she's started to wear more U.S. designers, unlike most of last week, she still seems to be obsessed with trying to channel Jackie Kennedy Onassis.
Here's what Melania Trump wore this week: 
Friday, Feb. 10: Departing Air Force One and channeling Jackie O — again 
We get it, Melania. You love Jackie Kennedy. 
On Inauguration Day, Trump wore a powder blue suit that bore a striking resemblance to Jackie's blue suit on Inauguration Day in 1961. 
And now here she is, the nation's first lady, looking to Kennedy for inspiration again, departing Air Force One in a black blouse and wide white pants, a very similar look to one Kennedy wore in 1973 when getting off a plane in Palm Beach, Florida. 
Though Kennedy's look was certainly not designed by Michael Kors, as Trump's was, the resemblance is spooky. It also brings to light the fact that this is getting quite exhausting. 
It's not like Kennedy is the only cool and exciting first lady that has ever existed. And it's not like her style feels all that modern anymore. It's time to for Trump find her own style, to pave her own way. 
Saturday, Feb. 11: A white dress to tour a garden with the Japanese PM's wife 
Though plenty of people had something to say about Trump not hosting Akie Abe when she was in Washington, D.C., the two did end up meeting in Florida when they toured Morikami Museum and Japanese Gardens in Delray Beach.
Trump did not try to channel Kennedy at all for this occasion, instead opting for a long, sleek white dress by Calvin Klein with a matching white cashmere cardigan. 
She also carried a fan. 
A bit of a formal look for walking around in the outside world, isn't it?
Saturday, Feb. 11: A black lace dress for a dinner party at Mar-a-Lago 
The white look didn't last long in Florida for Trump. By nightfall, she was back in black, wearing a backless black lace dress by an unknown designer to dinner with the Abes. She paired the look with black heels by Christian Louboutin. 
Wednesday, Feb. 15: A white suit for chilling with the Israeli prime minister's wife 
Trump went for white again on Wednesday for a full day of hanging out with Sara Netanyahu, during which the two would meander around the Smithsonian National Museum of African American History and Culture. She chose a skirt suit by Karl Lagerfeld, who is also head designer at Chanel. 
Though she ended the week by choosing a European designer, this week signaled that Trump is paying attention to wearing U.S. designers, and creating an aesthetic of her own, which apparently involves overdressing for every single occasion.