13 photos of businesses and workers across the US honoring #ADayWithoutImmigrants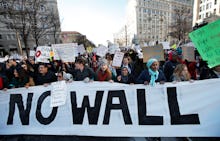 Business across the country closed their doors on Thursday for A Day Without Immigrants, a national day of protest against President Donald Trump's anti-immigrant policies and rhetoric. 
Since his inauguration, Trump has signed executive orders temporarily banning refugees, suspending the visas of immigrants from seven Muslim-majority countries and pushing forward construction of his promised United States-Mexico border wall. 
In the last week, Trump seemed to make good on his promise to crack down on undocumented immigrants in the U.S. with a spate of Immigration and Customs Enforcement raids across 12 states. Altogether, the multi-state operation resulted in the arrest of more than 680 people who Department of Homeland Security Secretary John F. Kelly called "public safety threats." 
As Trump continues his mission to round up the country's approximately 11 million undocumented immigrants, the immigrant community is sending him a stark message: The country doesn't work without us.
Here's a look at just a few of the businesses who took a stand against Trump's anti-immigrant agenda on Thursday:
Many would-be customers were met with signs informing them that their favorite bodega or restaurant would be closed for the day, including major restaurant franchises like McDonald's, Sweetgreen and Blue Ribbon sushi.
Wellesley College's Davis Museum took a different approach to #ADayWithoutImmigrants, staying open but covering works donated to the museum with a black cloth and replacing descriptions of the art work with a sign that reads "Given by an immigrant."
According to the Guardian, the museum has "de-installed" or covered 120 works, amounting to 20% of its permanent collection. They've called the initiative, which will continue through Feb. 21, "Art-Less."
Not being able to frequent your favorite bookstore, bodega or restaurant for a day may just be a mild inconvenience. But it'll certainly give people a taste of an America without immigrants — which they will quickly find is no America at all.