Trump Latest News: 4 takeaways from the past 24 hours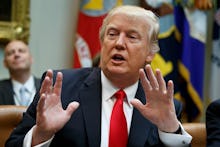 The dust hadn't even settled on national security adviser Michael Flynn's resignation when Andrew Puzder, President Donald Trump's pick for labor secretary, withdrew his name from consideration after the release of a tape of his ex-wife accusing him of spousal abuse on a 1990 episode of The Oprah Winfrey Show.
That was just one part of a pretty chaotic day at the White House. Trump also backed off the United States' longstanding insistence on a two-state solution between Israel and Palestine and escalated his feud with U.S. intelligence agencies — all as a national strike protesting the administration's immigration policies got underway Thursday.
Here is what we learned from the last 24 hours of Trump:
Trump administration chaos is intensifying
Trump has tried to cast reports that he is struggling to adapt to the presidency and that his White House is beset by drama as "total fiction" and "FAKE NEWS." 
But it seems increasingly difficult to deny that the administration is struggling to tread water after Flynn's messy resignation, Puzder's withdrawal shortly after and a continuation of the leaks that have been plaguing Trump's team. 
Trump opposition gaining ground?
During the campaign, Trump claimed he "could stand in the middle of Fifth Avenue and shoot somebody, and I wouldn't lose any voters." And indeed, he has proved shockingly — and frustratingly — durable so far, somehow weathering scandal after scandal, gaffe after gaffe after gaffe, and living to tweet another day. 
But we might be seeing that start to change.
Even before Puzder withdrew his name from consideration, he was facing mounting opposition from both sides of the aisle, putting his confirmation in jeopardy. Other members of Trump's Cabinet — particularly Attorney General Jeff Sessions and Secretary of Education Betsy DeVos — faced tough battles for confirmation; DeVos was only confirmed after Vice President Mike Pence cast an unprecedented tie-breaker vote. Two Republican senators voted against her confirmation, citing "serious concerns" about her qualifications and "thousands" of calls from constituents who opposed DeVos.
While DeVos was ultimately confirmed, the two Republican "no" votes suggested that the vocal opposition against Trump is starting to break through to lawmakers. 
On Thursday, the latest anti-Trump protest got underway: a National Day Without Immigrants to demonstrate against the administration's xenophobic rhetoric and policies. 
Trump headed for showdown with U.S. intelligence
Trump's long feud with U.S. intelligence has entered its latest chapter following Flynn's resignation. He blasted "low-life leakers" as part of a Twitter tirade Thursday morning, criticizing intelligence agencies and the media for leaking information on his administration. 
His criticism Thursday — including a tweet in which he once again dismissed Russian interference in the 2016 election as "fake news" — sets the stage for a showdown with intelligence agencies as he taps top campaign donor Stephen Feinberg, who has no national security experience, to conduct a broad review of U.S. intelligence. The intelligence community is skeptical, fearing that the Trump ally is being groomed for a top intelligence post. 
Meanwhile, intelligence agencies may have been withholding some information from Trump, fearing leaks, according to reports. 
Trump serious about shifting Israel policy
During his meeting Wednesday with Israeli Prime Minister Benjamin Netanyahu, Trump paid lip service to the notion that Israel should maybe hold off on its settlement building. But the real whopper came when Trump suggested his administration would not push for a two-state solution for Israel and Palestine — a policy the United States has backed for decades. 
The move, which came under fire from Democrats, signaled that Trump meant what he said when he tweeted in December that "things will be different" between the United States and Israel after he takes office.