Tiffany Trump's NYFW drama continues: Whoopi Goldberg defends her after editors snub her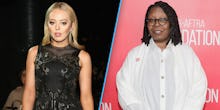 Tiffany Trump has found an unlikely friend in none other than Whoopi Goldberg.
Here's how this happened. 
On Tuesday, fashion editors at Philipp Plein's rather outrageous New York Fashion Week show began to tweet that no one wanted to sit next to a certain American president's daughter, Tiffany Trump. 
According to sources involved with the show, Trump wasn't technically invited, so her arrival — with Secret Service in tow — wasn't ideal, but Plein approved it at the last minute; so there Tiffany sat, front and center.
Editors were reportedly not pleased about being anywhere near one of the first daughters and what that would mean to their readership, so a few of them asked to be moved
And that made plenty of people sad — even Philipp Plein himself. 
"I'm not a politician," Plein told TMZ. "I just don't think it's right to judge or treat someone not with respect because she or he is the daughter or son of somebody people don't like. I think that's so bad." 
Know who else thought it was "so bad?" Whoopi Goldberg. 
On Wednesday's episode of The View, Goldberg offered Trump an opportunity to never be left with a single empty seat at a fashion show beside her again. 
"You know what, Tiffany," Goldberg said. "I'm supposed to go to a couple more shows. I don't know what's going to happen, but I'm coming to sit with you. Because nobody's talking politics. You're looking at fashion! She doesn't want to talk about her dad! She's looking at the fashion!" 
Later that day, Trump accepted Goldberg's invitation, despite Goldberg being highly critical of the Trump administration already. 
"Thank you Whoopi Goldberg I'd love to sit with you too!" Trump wrote, followed by a blushing smiley face. 
But we have some bad news for Trump and Goldberg, the two best friends anyone could have. 
While this is cute, this is also nearly impossible. New York Fashion Week ends on Thursday with Marc Jacobs' show at 2 p.m. But we guess, like Humphrey Bogart and Ingrid Bergman always had Paris, Tiffany Trump and Whoopi Goldberg will always have next New York Fashion Week.