Future's New Album Track List: 5 of the best songs from his self-titled album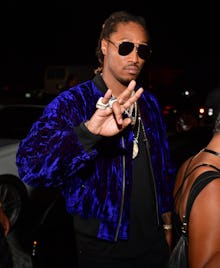 While being mostly low-key from the mainstream music scene following his fourth studio album, Evol, which hit No. 1 following its release in 2016, Future was "preparing the feast" — his new self-titled project that he rolled out today. You can find out how to purchase and stream the new release here.
On Future's new opus, the artist utilizes his trademark formula of high-energy beats and infectious melody-driven deliveries, while embracing his Future Hendrix persona (which is influenced by the late rock musician). He's all about putting more imagery from his new lifestyle into his music while still reminding folks of his rags-to-riches narrative. In a recent interview with Zane Lowe on Apple Beats 1, Future expressed his goals for his latest 17-track record.
"[It's about] me being different and me feeding off Jimi Hendrix and just what it represents to me as being different," Future said, "as someone that comes from where I'm from to being able to just do it a different way than what was expected. And that's just what Future Hendrix represents." 
It's been five years since Future's debut Pluto, an album that had several hip-hop bangers, including "Tony Montana," "Same Damn Time" and "Turn on the Lights." He mixed Auto-Tune and crooning raps over solid beats, a combo that allowed him to stand out in the rap game. Since then, Future has produced other notable projects, most recently DS2 and the What a Time to Be Alive mixtape with Drake. But Future says he wanted a fresh slate with his latest.
"I don't want to be attached to What a Time to Be Alive or the Dirty Sprite 2's," he said. "They gon' always try to compare. Like, 'Oh, it's hotter than this.' Nah it's two separate things.... It's a different lane. Hopefully this lane will be longer than the lane that I created — when I had that tribe and force to put out those projects."
Future didn't bring on any features for the eponymous project, but he did welcome production from past collaborators, such as Metro Boomin, Zaytoven and TM88. 
We do get a break from his voice on the album via skits of a faux rap podcast parodying various scenarios like rappers who call up the show to land record deals and a woman who calls up hoping to meet a rich man. It isn't entirely clear how this all ties into the narrative presented on Future — but it can be suggested that Future is mocking or in some way calling out situations and people from his previous or current environments. 
Overall, the album isn't far off from previous Future records: trap beats for the turn up, styrofoam cups, emphasis on the conflicts faced on his road to success and the mindset it took for him to push through. 
With that said, here is a look the best five songs on the album. Lyrics mentioned below are via Genius:
"POA"
The on-the-mission theme often present in trap music is what makes it motivational. "POA," shorthand for power of attorney, has that hustling spirit. The production was handled by Merlin808 and DJ Spinz, and isn't anything groundbreaking sound-wise, but Future's headstrong flow brings it to life.  
"Might as Well"
Future gives us something spacey, chill and stripped-back on the keys-led "Might as Well." Here he reflects on the things he's overcome. "Nigga came from the deep end/ You will never know what I was in," he raps. By remembering where he comes from, he has nothing to lose by enjoying the life he's living now. It's about the YOLO mentality on this one.
"Flip"
On the bouncy record, Future is letting us know that he's always going to take what he has and use it to bring in more; he's never complacent. The rapper croons his way through the record produced by Southside to produce a catchy product for more trap-inspired motivation.
"When I Was Broke"
Future acknowledges a woman who stayed with him during his broke days. He takes us back to the moment where he couldn't provide anything monetarily while he was working to make it to the top. Here, he shows a bit of vulnerability in a few lyrics. "Don't ruin my confidence, don't you do it/ Sometimes I try to be there for you/ And my plan, it don't go like I want it," he raps.
"Feds Did a Sweep"
"Feds Did a Sweep" feels like a warning, as Future reflects on his friends who died or who are currently incarcerated from selling drugs or other activities. "I was touchin' work in elementary/ Started cookin' work and skippin' Chemistry/ Then I started speakin' poetry/ I just wish my dawg didn't ignore me," he raps. 
The past is weighing on him and Future seems to want whoever is listening to learn from him on the closing song.
Mic has ongoing Future coverage. Please follow our main Future hub here.