Kesha Emails: What's next after singer revealed producer Dr. Luke's fat-shaming comments?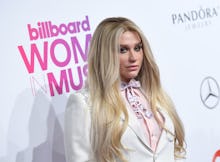 On Wednesday, Page Six revealed explosive emails sent between Dr. Luke and Kesha in which he fat-shamed the pop star. 
The emails from the "Die Young" singer are part of Kesha's legal team's request to be released from her contract with the music producer. The emails support Kesha's case that Dr. Luke was mentally and sexually abusive toward her. 
Kesha's attorney filed papers this week asking to "be free from her abuser and rebuild her physical, emotional and mental health," and the emails are to help support this case. 
The emails in question are between Dr. Luke and Kesha's manager, Monica Cornia. In one email, according to Page Six, Cornia asked Dr. Luke to support the singer, explaining she is not a machine: "If she were a machine that would be way cool and we could do whatever we want." 
In another email, the producer wrote that songwriters and other producers don't want to work with the "Tik Tok" singer because of her weight.
In what's maybe the most damning comment made by Dr. Luke in the emails, he ridicules the singer for not staying on her diet. "There have been many times we have all witnessed her breaking her diet plan. This particular time — it happened to be Diet Coke and turkey while on an all-juice fast," he wrote, according to Page Six. 
Following the release of the emails on Wednesday, Dr. Luke's lawyer issued a statement which called the emails "out of context." "Kesha and her attorneys continue to mislead by refusing to disclose the larger record of evidence showing the bad faith of Kesha Sebert and her representatives which is greatly damaging to them," the statement read. 
Where does the case go from here? Well, with the release of these emails, Kesha and her team are hoping the court will reconsider their previous decision. In February 2016, a judge denied an injunction that would have allowed Kesha to record with producers outside of Sony, which owns Dr. Luke's Kemosabe Records. 
According to the Page Six article, the judge will be speaking with both parties next week.
Mic has ongoing music coverage. Please follow our main music hub here.