Lorde to release new music in March. Time to speculate wildly what it might sound like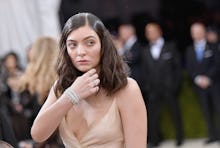 It's been four years since Lorde first introduced herself to the world with "Royals," a song that, looking back now, feels like a turning point in pop radio. It was a clear break from the chipper, dense, soul-driven hits of the early '10s, a turn towards a more dark and sparse pop we hear everywhere today. 
It feels like a predecessor to the confessional, whispering missives that breakout stars like Alessia Cara and the Weeknd, have built careers upon in Lorde's absence. But in March, the young trailblazer will return, older, perhaps wiser with a new take on her sardonic, shadowy melodies. 
According to leaked snapshot from the Republic Records' website, "Lorde (Confidential Title) 3/7" is on the agenda for a coming meeting, further confirming new Lorde is coming. It's not clear whether it will be a single or an album, but considering the level of secrecy, fans should be prepared for a drop fit to shake the internet to its core.
What will Lorde's new music sound like?
Pop has come a long way in the past few years. It's weathered the meteoric rise and fall of Iggy Azalea; it's seen Beyoncé break the internet twice with back to back career-defining albums; it's seen Migos become certified pop stars. Where does Lorde fit now?
She likely knows she can't just come back with the same styles and have them hit the same way. "I was 16 when most of us met. Can you believe it?" Lorde wrote in a November Facebook post right before her 20th birthday. "I laugh thinking about that now — that glossy idiot god, princess of her childhood streets, handmade and ugly and sure of herself." 
That was the Lorde we knew on Pure Heroine.
"Writing Pure Heroine was my way of enshrining our teenage glory, putting it up in lights forever so that part of me never dies, and this record — well, this one is about what comes next."
The most recent song she collaborated on was Disclosure "Magnets" in 2015. Lorde's vocals were still characteristically breathy and yearning, filling the spaces in the song's sparse percussion. She got a little swallowed on the chorus when the producers fold in more synths and hits — something she'll have to take care to avoid on her future project.
The video depicts a far less demure Lorde than we've seen in the past. She takes vengeance on a faithless waif of a man, fitting naturally into femme fatale role. 
Lorde has been actively tweeting about her influences the past few months, her latest obsession being Kehlani's SweetSexySavage.
"After a horrifying, anxiety-inducing week of news, music like this allows much needed catharsis," she wrote in accompanying tweets, offering a window into what's she's feeling for her new album. 
"I truly believe in the necessity of cathartic pop records in times like these — I love the big sprawling projects too, but there's something about the falls & lifts of meticulous pop, moments designed for u to feel what u need to, that's more important than ever." 
Cathartic, meticulous, nuanced, joyful — all words Lorde has long lived by but she seems to be clearly honing in on for her coming music. They're principles that seem perfect to focus a 2017 pop release around. It's music that seems conscious of the whirlwind chaos that sweeps through culture a few times every week, but looks beyond it to something deeper and more resonant.  
Propelled by Lorde's imminent release, prepare for March to live up to its reputation and come in like a lion and out like a lamb.
Mic has ongoing music coverage. Follow our main music hub here.