Trump picks Alexander Acosta, a former prosecutor, for labor secretary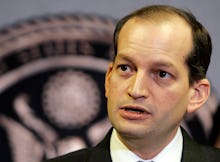 President Donald Trump moved quickly Thursday to nominate former Florida U.S. Attorney Alexander Acosta to run the federal Labor Department after his first nominee bowed out amid controversy.
Trump tapped Acosta, currently dean of the Florida International University School of Law, after nominee Andrew Puzder withdrew following the release of footage in which his ex-wife accuses him of abuse during a 1990 episode of The Oprah Winfrey Show.
"I think he'll be a tremendous secretary of labor," Trump said of Acosta at an afternoon news conference before launching into an extended attack on the "dishonesty" of the media.
The Puzder withdrawal was the second body blow to the administration in a span of just days: Monday night, retired General Michael Flynn resigned as national security adviser following questions about his contacts with Russia prior to Trump's inauguration.
According to his FIU biography, Acosta is a former member of the National Labor Relations Board and "went on to be the first Hispanic to hold the rank of assistant attorney general." 
As U.S. attorney for southern district of Florida, Acosta's high-profile prosecutions included notorious fraudster Jack Abramoff and Cali Cartel kingpins Miguel and Gilberto Rodriquez-Orejuela, the bio noted.
In a thumbnail profile, Heavy reported, "In 2011, Acosta testified before Congressabout the importance of protecting the civil rights of Muslim Americans," but also mentioned he had fielded criticism for not objecting in 2004 to "Republicans' plan to place 'challengers' at some polling places during the election."
Acosta holds degrees from Harvard College and Harvard Law School.