'Crash Bandicoot' Remastered PS4: Activision announces 'N. Sane Trilogy' release date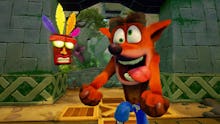 The Crash Bandicoot N. Sane Trilogy — a remastered collection of three Crash Bandicoot games for PS4 — finally has an official release date: June 30, 2017. The announcement came in the form of a blog post on the Activision website written by the Crash Bandicoot N. Sane Trilogy development team.
The announcement also included a new trailer to help celebrate the news. It's pretty short, but any excuse to get another glimpse at everyone's favorite hi-def marsupial is fine with us.
Crash Bandicoot N. Sane Trilogy will cost $40. 
More gaming news and updates
For more gaming news, check out the latest from Mic. Here's a collection of cute Overwatch-inspired Valentine's Day cards, 15 photos that compare the Nintendo Switch to the Wii U and other gadgets, a beginner's guide to For Honor and a deep dive into the new trend of Nazi-punching video games.