Trump nominates son of immigrants as labor secretary pick on Day Without Immigrants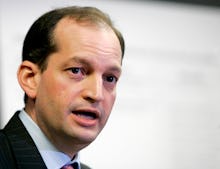 President Donald Trump announced R. Alexander Acosta as his pick for labor secretary on Thursday. Acosta is the current dean of the Florida International University School of Law.  
Acosta graduated from Harvard Law School and served on the National Labor Relations Board under President George W. Bush. He eventually rose through the ranks of the federal government and became former assistant attorney general for the U.S. Department of Justice's Civil Rights division. Acosta has been appointed and confirmed for various positions by the U.S. Senate three times. Acosta, who is the son of Cuban immigrants, is set to be the first Latino member of Trump's cabinet. 
Coincidentally, Trump announced Acosta on the same day the "Day Without Immigrants" protest was held. On Thursday, immigrant workers nationwide stayed home to highlight U.S. immigrants' economic contributions. Several restaurants around the country have halted their services in solidarity with the protest. Immigrants are responsible for about 14.7% of total U.S. economic output, according to the Economic Policy Institute.
Day Without Immigrants represents the fifth straight week of protests since Trump began his tenure in the Oval Office. The protests began at Trump's inauguration.
News of Trump's pick also comes shortly after the Department of Homeland Security's announcement that it had arrested 680 immigrants in a series of raids over one week.  
Trump ran a campaign fueled by xenophobia, and his tenure as president has fulfilled many of his campaign promises. Within the first two weeks of his presidency, Trump signed executive orders halting America's refugee resettlement program — and banning travelers from seven Muslim-majority countries — as well as another furthering plans to build his pet project, a wall along the border of the U.S. and Mexico. 
Trump announced Acosta as his new pick for labor secretary one day after Andrew Puzder withdrew his nomination for the same role following the release of a tape from a 1990 episode of the Oprah Winfrey Show in which Puzder's ex-wife accused him of abuse. 
That Trump asked the son of immigrants to fill this slot further reveals a great truth about America: To paraphrase Hamilton, "Immigrants — they get the job done."