'Elder Scrolls 6' Release Date Rumors: New mechanics, development details and more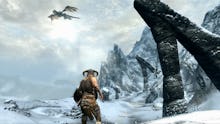 These are lean times for fans of the Elder Scrolls series of open world RPGs. Sure, Fallout 4 is basically the same thing with a vastly different setting, but it's been almost six years since we hiked the peaks of Skyrim. The only real thing these fans can look forward to in the near future is a Nintendo Switch re-release of a game from 2011. 
That said, Skyrim was an enormous success. It's one of the most popular games in recent memory. It's absolutely going to get a sequel someday, but when and in what form?
Elder Scrolls 6 release date: It might not even be in development yet
Bethesda has committed to eventually making Elder Scrolls 6, but that doesn't mean it's in development right now. Take it from Bethesda executive Pete Hines, who confirmed as much in a tweet just a few months ago.
Considering Fallout 4 wasn't even revealed until almost four years after Skyrim came out, this isn't surprising. Creating massive worlds to explore takes time, of course. 
In fact, Bethesda has committed to working on two more major projects before getting to the next Elder Scrolls game. In case it wasn't already abundantly clear, it's going to be a while before we return to Tamriel. 
Elder Scrolls 6 release date rumors: Minecraft mechanics
Elder Scrolls 6 doesn't exist in any kind of meaningful form, which means anything that anyone tells you about the contents of the game is pure speculation. Digital Spy does make some decent points about what we might be able to expect, though.
Fallout 4 featured robust settlement building mechanics which were built off the home customization in Skyrim. Given the immense popularity of turning raw materials into architectural marvels in games like Minecraft, it stands to reason that the successor to Skyrim will build on that idea in some way. 
It's also worth noting that Bethesda's games tend to add a completely new mechanic with each iteration. Fallout 3 added the V.A.T.S. combat system, Skyrim added the dragon shouts and Fallout 4 brought the aforementioned settlements to the table. The next game will almost surely bring something completely new and unexpected in the same vein as those ideas.
Of course, we will let you know as soon as we hear any more concrete information about it. Just don't be surprised if there's another presidential election between now and then.
More gaming news and updates
For more gaming news, check out the latest from Mic. Here's a collection of cute Overwatch-inspired Valentine's Day cards, 15 photos that compare the Nintendo Switch to the Wii U and other gadgets, a beginner's guide to For Honor and a deep dive into the new trend of Nazi-punching video games.