The Giphy library now includes over 2,000 American Sign Language GIFs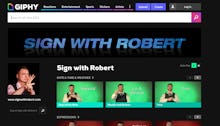 GIF emporium Giphy expanded its library on Thursday to include more than 2,000 words and phrases in American Sign Language. The company collaborated with educational series Sign With Robert to slice clips from their 30-episode video series featuring Robert DeMayo and add written text. The goals, Mashable reported, are to empower the deaf community and help hearing people learn ASL.
There are two ways to access the GIFs: users can find ASL GIFs by searching for "Sign With Robert" on the Giphy platform or organically stumbling upon them while searching for certain words. 
By visiting the main page for the ASL GIF library, users can peruse words based on categories including date, time and weather; expressions; emotions; lifestyle; sports; food and cooking; holidays; transportation and travel; emergency and disasters; people and family; and education. The words and phrases include expressions used in digital culture like "rolling on the floor laughing," and even one for an emoji-like sentiment of a "toothy grin."
Using GIFs is an effective way to teach ASL, as the looping content does not require someone to waste time playing, pausing and rewinding to repeat footage, according to Hilari Scarl, Sign With Robert's director and producer.
"GIFs, as a visual format untethered from audio, makes them a perfect medium for sign language," Scarl told Mashable. "The looping format makes it a perfect tool for learning through repetition."
The idea to create an ASL GIF library came from Wallis Millar-Blanchaer, a video artist at Giphy, and Stephanie Weber, a Giphy studios coordinator, while coming up with ways to merge GIFs with education.
"Wallis suggested sign language GIFs in an initial brainstorm, which we immediately stuck with, as it's such a visually engaging language and would be well expressed in GIF form," Weber said. "And the looping format makes it a perfect tool for learning through repetition."