15 of the best Netflix original series and movies you absolutely have to watch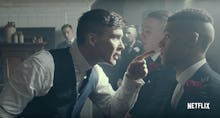 The days of flipping through the channels in search of something good to watch are all but over thanks to the on-demand streaming offered by Netflix. But with a library of over 5,000 titles, finding the right series or movie can still prove to be challenging. 
While most of Netflix's originals are superb, some stand out above the others. Below is our list of the 15 Netflix original series and movies you absolutely have to watch.
A spectacular show that explores the dangers lurking within an alternate dimension, Stranger Things is a delight to watch. The series follows a group of children who stumble upon a young girl named Eleven, who just so happens to have incredible supernatural powers and the ability to open up a portal to the Upside Down — an alternate dimension that's home to an extremely dangerous monster. 
The children work with Eleven to rescue one of their friends from the Upside Down, but their mission is fraught with peril. Even with Eleven's powers, they frequently find themselves in harm's way. Season one of Stranger Things is currently out, and season two on its way.
Thomas Shelby wants nothing more than to protect his family, and maybe make a little money in the process. Shelby — along with his many siblings, cousins and friends — is a gangster and fierce crime boss in early-1900s England. He's also easy on the eyes. 
Peaky Blinders follows Shelby's journey as he claws and fights his way up through the ranks. He's always seeking to improve his position, but oftentimes it comes at a price: jilted love, betrayal or even murder. If you watch this series, just remember, no matter what, "No fighting. No. Fucking. Fighting!"
There are currently three seasons of Peaky Blinders, and season four begins filming in March.
Luke Cage is so much more than just an epic Netflix original series about a bulletproof superhero. The show is Marvel's first series with a black lead, one who makes a point to pause from the action to deliver poignant monologues about important black figures. 
Cage got his powers from a prison experiment gone wrong. He was strong before, but now he can stop a moving car with just his body and bend guns in half with his bare hands. He's also impervious to bullets, which repeatedly comes in handy as he sweeps Harlem's streets clean of the criminals lording over the city.
Luke Cage is fun and exciting at every turn, but ultimately, it's a groundbreaking show that matters more than most. The first season is currently available on Netflix, but fans might have to wait until 2019 to catch season two.
The Siege of Jadotville tells the harrowing true story of the Irish peacekeeping troops who held their ground against French and Belgian mercenaries in the Congo. The Irish troops were tasked with defending Jadotville — a mission that was expected to result in little to no combat. However, they ultimately faced impossible odds: They were outgunned and outnumbered, yet they refused to surrender, knowing that if they did the inhabitants would be killed by the mercenaries. 
The Siege of Jadotville is a movie about bravery, dedication and a group of Irish soldiers who risked everything for what they believed was the greater good.
A series about the rise of Queen Elizabeth II, The Crown is as artful as it is mesmerizing. The performances are outstanding throughout, with Claire Foy as Queen Elizabeth proving to be an onscreen wonder. John Lithgow's Winston Churchill is incredibly compelling as well. 
With a close attention to historical details, The Crown will win over any fan of the monarch, as well as those not yet familiar with England's past.
The Crown season one is available now, with production on the second season underway.
There's something captivating about a truly diabolical villain, and that's exactly what President Frank Underwood is. He's merciless, malicious and murderous — literally, he murders people as he plots his ascension to the Oval Office.  
With his wife Claire by his side, Underwood starts at the bottom and continually finds dubious ways to elevate his position. He first sneaks his way into the role of vice president, and ultimately becomes the president after convincing the current commander-in-chief to step down — a ploy completely thought up and executed by Underwood. 
Each episode of House of Cards is as riveting as the last, and the show is a great watch even for those uninterested in real-world politics. 
There are currently four seasons of House of Cards available on Netflix, with Underwood returning to office for the show's fifth season on May 30.
It's Kublai Khan's world, and Marco Polo is just living in it. It all starts when Polo's father gives up the young adventurer to the Mongolian leader in exchange for his own freedom. Polo's father promises it's a good thing, but it quickly becomes clear the amicable trade is far from being in Polo's best interest. 
Polo knowns nothing of Mongolia's customs, but he must learn to adapt to the dangerous new world he lives in or face certain death. Peril lurks around every corner, but Polo is highly intelligent and soon finds favor in Kublai Khan's eyes. He's safe, at least for a while.
This historically rich tale follows the volatile ups and downs of Polo and Kublai Khan's friendship, as well as Polo's incredible adventures. Placed in 13th-century Mongolia, Marco Polo is a visually rich series that offers a gripping glimpse into the past. 
Marco Polo was cancelled after two seasons, both of which are still available on Netflix. 
Jessica Jones is a daring series that takes a hard look at the consequences of mental and physical abuse. Jones is a private detective with super strength, but her world comes falling down around her after she meets Kilgrave, a truly diabolical villain who can control the minds of others.
Kilgrave takes a liking to Jones, ultimately becoming completely obsessed with her, and uses his powers to force her to bend to his will. No matter how hard she tries, Jones cannot defy Kilgrave's orders — until, one day, she does.
Jones escapes and, believing Kilgrave is dead, returns to her life. But when rumors circulate of Kilgrave's resurgence, it's time for Jones to put her detective skills into action.
Jessica Jones season one is currently on Netflix, with season two of the series expected to air sometime in 2018.
This is not a series for those looking for happy endings or a pleasant story about good things happening to good people. On the contrary, A Series of Unfortunate Events is quite glum, a dark cloud that hangs over an otherwise very bright and cheerful family. 
The Baudelaire children become orphans after their parents mysteriously die in a fire. Now they must live with the despicable Count Olaf, who wants nothing more than their massive family fortune. 
The brilliant Baudelaires must face adversity at every turn. Nothing is easy for these poor children, but while they may seem to have lost everything, they still have each other.
A Series of Unfortunate Events is masterfully done, and though the series' plot is at times rather dreary, it's absolutely a must-watch.
The first season of A Series of Unfortunate Events came out in January 2017, and while it's still unclear if Netflix plans to renew the series for a second season, producers are already preparing for it.
After his parents are murdered by militants, young Agu is left with no other choice but to join a group of child soldiers. Led by Commandant, the children are forced to commit atrocious acts of violence, losing any and all remnants of their innocence in the process.
Set in an unnamed African country, Beasts of No Nation ruthlessly faces the realities of war and the heavy toll it takes on everyone it touches.
Losing a loved one is one of the most difficult tragedies to deal with, but when they come back from the dead, an entirely new set of challenges exist. A fresh take on zombies, Glitch follows James, a law enforcement officer in a small Australian town, who must make some tough decisions after finding his dead wife has now come back to life.
But James' wife isn't the only body to rise from the grave in the town's local cemetery. With the help of the town's doctor, James conceals the undead crew from the world for fear scientists will take them away from him.
Exactly how the corpses became reanimated is unclear, but James and his team are set on figuring out what exactly is going on.
Glitch season one is available on Netflix, with the second season expected to drop sometime in 2017.
If drama is your thing, Bloodline will be right up your alley. This is one of the most suspenseful Netflix originals to date, with every episode building upon the last to create an increasingly growing feeling of impending doom and chaos. It's especially tense given the first episodes reveal much of the plot, leaving the viewers to wonder who is responsible for the egregious crime committed. 
The dark past of the Rayburn family slowly comes to light as the series progresses, and the first season ends with an epic conclusion.
There are currently two seasons of Bloodline available on Netflix, with the third expected to come out sometime in 2017.
By day, Matt Murdock is an unassuming lawyer, but by night he's the Devil of Hell's Kitchen. Daredevil was blinded during a childhood accident, but his lack of sight doesn't exactly leave him unable to see. This superhero has extraordinary powers and can see in a way no other human can. He uses his skills to fight crime and aid in his effort to reclaim Hell's Kitchen from the criminals gripping it by the throat.
The show's second season opens with the villainous Kingpin locked behind bars, but a new threat roams the streets: the Punisher. Though some consider this murderous antihero a vigilante who brings a swift and final justice to anyone caught in his crosshairs, Daredevil completely disagrees with his methods; what follows is a clash of the titans.
Two seasons of Daredevil are currently on Netflix; a third installment is expected, but likely won't drop until sometime in 2018.
Prairie has been missing for seven years. When she finally resurfaces, the once-blind young woman now has her sight back. The circumstances of her disappearance are initially unclear, but it's later revealed she was captured by a torturous scientist dedicated to unraveling the mysteries surrounding near-death experiences. 
During her captivity, Prairie learns that her NDE has unlocked mystical powers buried deep within her. Prairie escapes, and along with a new set of friends tries to harness her powers to open a dimensional portal back to her fellow captives. But does Prairie really have powers, or was her entire experience a fabrication resulting from of her fractured mind?
Either way, The OA is a fascinating watch and provides not only a compelling story, but beautiful character development. 
The first season of The OA is available on Netflix, and while the series has been renewed, no release date has been announced for season two as of yet.
Black Mirror is an insightful, thought-provoking series inspired by the world's obsession with technology. Each episode stands independently of the others and tackles a unique aspect of our relationship with technology. Most episodes take a grim stance on technology's rapid growth, though some of the show's stories are more lighthearted.
After the credits roll, you'll no doubt be left mulling over each episode's message.
The first three seasons of Black Mirror are available on Netflix, with its fourth season expected to land sometime in 2017.