Who is Alexander Acosta? Here are 3 things to know about Trump's new pick for labor secretary.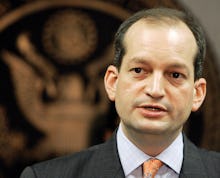 President Donald Trump on Thursday nominated Alexander Acosta, a former Florida U.S. attorney, to be his labor secretary. The selection came a day after his previous pick, Andrew Puzder, withdrew from consideration after a tape emerged of his ex-wife accusing him of domestic abuse on a 1990 episode of The Oprah Winfrey Show.
Here's what you need to know about Acosta:
He has significant legal experience
Acosta, currently the dean of the Florida International University law school, clerked for Supreme Court Justice Samuel Alito after graduating from Harvard Law School. 
He also served as an assistant attorney general in the George W. Bush administration and as U.S. attorney for the Southern District of his native Florida, where he prosecuted a number of high-profile cases — including that of lobbyist Jack Abramoff, according to the New York Times.
He was a member of the National Labor Relations Board
Bush also appointed Acosta to the NLRB, where he served from 2002 to 2003. He was part of 125 decisions during that time. 
Trump cited Acosta's "tremendous career" during a testy press conference announcing the pick. Acosta was not present for the presser, during which Trump whined the media was "out of control" and that, contrary to reports of "chaos" in the White House, his administration is actually "running like a fine-tuned machine."
He would be the first Hispanic member of Trump's Cabinet
If confirmed, Acosta — a Cuban-American native of Miami — will be the first Hispanic member of Trump's Cabinet. 
Javier Palomarez, president of the U.S. Hispanic Chamber of Commerce, praised the nomination. 
"We are thrilled to work with Acosta on a host of economic and labor issues which directly affect our members and the Hispanic community as a whole," Palomarez told the New York Times.