Trump asks black reporter to set up meeting with "friends" in Congressional Black Caucus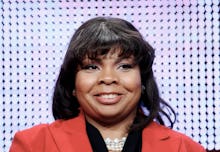 During a frenzied marathon of a press conference Thursday, President Donald Trump asked black veteran journalist April Ryan if she was "friends" with members of the Congressional Black Caucus and requested she set up a meeting with them. 
Ryan asked Trump a question about his plans to help "inner cities," a main tenet of his campaign platform. In a follow-up, Ryan questioned whether Trump planned to work with the Congressional Black Caucus — an organization of black members of Congress — to implement policies aimed at people of color living in cities. 
When Ryan referred to the caucus as the "CBC," Trump seemed confused as to whom Ryan was referring. 
"Well, I would. I tell you what, do you want to set up the meeting?" Trump said, interrupting Ryan. "Do you want to set up the meeting?"
"No, I'm just a reporter," Ryan responded.
"Are they friends of yours?" Trump snapped back. "Set up the meeting."
People on Twitter were not happy with Trump's remarks to the journalist.
Some Twitter users called out Trump's condescending tone. Prior to taking her question, the president told Ryan she was "very professional and very good."
Trump's aggressive treatment of the journalist echoes his ongoing shaky relationship with black women, of whom only 4% voted for him in the 2016 election. 
"I am a journalist, not a convener!" Ryan wrote on Twitter after the encounter. 
The Congressional Black Caucus also responded to Trump's comments on Twitter, saying it sent a letter to Trump — then the president-elect — and have yet to hear back from him. 
Ryan made headlines earlier this week when she said she was physically intimidated by Omarosa Manigault, Trump's director of communications for the Office of Public Liaison. Ryan claimed Manigault said the White House had "dossiers" on many black journalists.