10 dresses from NYFW you'll likely see on the Oscar red carpet — and who should wear them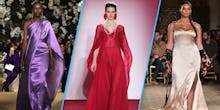 People often look at pictures of the outfits from New York Fashion Week and only think of themselves. This model came out wearing a feminist statement T-shirt. Does that mean I should start shopping for a feminist T-shirt? 
This model came out wearing a fur coat encased in clear vinyl, much like a grandmother's couch. Does that mean clear vinyl will show up in my local H&M in six months? 
But while plenty of people ponder these pressing questions, others look to NYFW for a sneak peek at what Hollywood's biggest actresses will wear to Sunday's Oscars, which takes place just over a week since the close of NYFW. 
Every year, plenty of stars walk the red carpet in dresses fresh from the runway. And judging by 2017's Oscar-worthy offerings, it'd be foolish to not expect more of the same. So, we found 10 of the best dresses that feel ready for the spotlight. 
Not only that, we figured out who should wear them, too. Stylists, if you're reading this, it's not too late. 
This green Marchesa dress for Emma Stone
Like, come on.
The Marchesa show is one that has a virtual bounty of Oscar red-carpet-worthy gowns, but this one just speaks to us. The flattering, interesting neckline and the little bit of glitz make this dress simply unforgettable. 
As for who should wear it? Well, that'd be Emma Stone — at this point, redheads and green are nearly inevitable.  
This purple stunner from Ralph Lauren for Viola Davis 
Between the color and the fabric — which would definitely stand out on a red carpet full of black dresses and tuxes — we'd say this purple gown is just about perfect for Hollywood's biggest night. 
And it feels just about fitting for a woman almost guaranteed a statuette on Sunday for her performance in Fences: Viola Davis. Girl looks good in bright colors, so this dress seems like it was made for her. 
This sparkly black Michael Kors for Ruth Negga 
Close your eyes and picture one person — and one person only — wearing this gown: Ruth Negga. She's a newcomer to the Oscars, but we can already tell she's a risk-taker. 
Negga showed up to the Golden Globes looking like a futuristic Betty Boop, which means girl definitely knows how to make a statement. She's also a woman who can seemingly pull off anything, so why not go for a Oscar dress laden with fringe and sparkles? 
This cool Carolina Herrera for Michelle Williams 
Michelle Williams has been low-key stunning on red carpets for years now, and we think this Carolina Herrera dress — with its modern silhouette and textiles — could put her firmly into fashion icon territory.
Just picture her wearing it, cute pixie haircut and all. It works, right?
This golden Naeem Khan for Nicole Kidman
Nicole Kidman has a tendency of always stepping onto red carpets looking like a Victorian ghost. 
That's not necessary a bad thing, but we just feel like she's been there, done that when it comes to frilly gowns in light colors. We know she has it in her to change; after all, she wore a sparkly green dress with parrots to the SAG Awards. So, here's a shimmery Naeem Khan dress to help her along her journey to looking like she's one of the living. 
This sleek Prabal Gurung for Meryl Streep 
As one of the most outspoken and political actresses in Hollywood, Meryl Streep clearly knows what she's doing right now. And that's why we see this dress by Prabal Gurung — who arguably had NYFW's most political show, featuring models wearing feminist statement T-shirts, including one that read the now-iconic line "Nevertheless, she persisted" — as the perfect option for her. 
This choice would pull double-duty by allowing Streep to deliver a subtle dig at the Donald Trump administration and look damn good doing it. 
This white Brandon Maxwell for Natalie Portman
We know Natalie Portman is going to be very, very pregnant at the Oscars, probably unbearably so. 
Because of this, we think Portman should take a note from Beyoncé on this one — and maybe Queen Bey's sister Solange on her wedding day, too — and try to look as otherworldly as possible by wearing this white dress with a regal cape. 
This red Naeem Khan dress for Octavia Spencer
It's going to be a big night for Octavia Spencer, whose role in Hidden Figures landed her a second Oscar nod after having won her first for 2011's The Help. She should be proud, stunning and eye-catching on Sunday, and for those reasons, we're suggesting this lovely red dress from Khan. 
Spencer's a woman who looks stunning in bright colors, and this red just seems right. 
This slinky Christian Siriano for Taraji P. Henson
Right now, the world needs to see Taraji P. Henson in a slinky satin champagne gown at the Academy Awards. It just feels right. 
Siriano, who's known for creating beautiful custom and form-fitting gowns for plenty of Hollywood women, isn't a designer Henson has worked with before, but those reasons remain a mystery to us.
This gold Jason Wu for Naomie Harris 
Again, this just needs to happen. 
Like Negga, Naomie Harris is a woman who takes chances with fashion, and it's paying off — big time. She's drawn to modern silhouettes and unlikely fabrics, so this gold velvet gown from Jason Wu would look glorious on her. 
If Harris goes for a gown that looks remotely like this one, we guarantee it'll be a moment.