'Pokémon Go' Storage Upgrade: 50% discount announced for Gen 2 update, but is it worth it?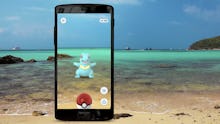 A storage upgrade bonus is among the many gifts Niantic is bringing us with its massive Pokémon Go Gen 2 update. Along with the addition of your favorite Johto region Pokémon and some bomb-ass clothing choices, Niantic is throwing trainers a bone: To help you store those new Pokémon, the cost of Pokémon Go storage upgrades will be half off for a limited time. 
You don't need stylish glasses to know that's a good deal, but is it really worth the in-app purchase?
Pokémon Go storage upgrade discount: Here's what you need to know
Niantic confirmed the news with a tweet from the official Pokémon Go account, revealing the 50% discount will be available beginning Thursday through Feb. 28. Android Central confirmed the upgrade would cost 100 coins instead of the normal 200 during this time.
Pokémon Go requires you to pay for storage upgrades with in-game coins, and the easiest way to get those coins is with real-world money. If you're a powerful trainer, you can also get PokéCoins by taking over gyms and holding them for a set amount of time. That's easier said than done, though; for many people, spending a little cash is probably the quicker option.
If you're serious about getting back into Pokémon Go for Gen 2, this is a good opportunity to make space in your inventory for the coming deluge of new Pokémon and items.
Check out more Pokémon Go guides, tips and tricks
If you're booting up the game for the first time in a while to get ready for Gen 2, be sure to check out Mic's guides on how to get stardust, how to determine how long it will take you to reach level 40, the kind of Pokémon you get from 10-kilometer eggs, how to create new PokéStops, how to maximize your chances of catching Pokémon and how PokéStops distribute Pokémon eggs. Also check out how to catch Gen 2 baby Pokémon, our analysis of post-balance update Chansey and Rhydon and everything you need to know about finding the long-awaited Pokémon Ditto.