MSU coach defends doctor who allegedly sexually assaulted 3 school gymnasts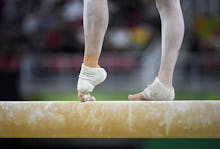 Michigan State University women's gymnastics coach Kathie Klages resigned Tuesday after officials discovered she minimized sexual assault allegations leveled against Larry Nassar, a doctor who treated the school's gymnasts and members of the women's crew team.
According to the Detroit News, Klages told the mother of one of the alleged victims that Nassar had been treating her daughter's back pain with vaginal penetration — a proven medical treatment, she insisted. 
The gymnast said she had been sexually assaulted during those treatment sessions, which occurred three times a week at a local gymnastics facility, Nassar's MSU office or the basement of his home. 
The alleged victim joins two other women who have accused Klages in a civil lawsuit of knowing Nassar was committing sexual assault all along. 
Upon Nassar's arrest in November, his lawyers made the same claim that vaginal penetration was part of a legitimate osteopathic practice. 
At the time, Olympic medalist Rachael Denhollander said she, too, was seeing Nassar for back pain when, over the course of five sessions in 2000, he groped her breasts and her genitals and digitally penetrated her vagina and anus. 
Denhollander was the first alleged victim to go public with her experience, and USA Gymnastics immediately reported Nassar to the FBI. Nassar was later jailed on state and federal charges related to possessing child pornography, assaulting a girl in his home and destruction of evidence.
Klages defended Nassar on many of these charges, according to the Detroit News, even claiming someone may have planted the child pornography on his computer to sabotage him.
"The reason I came forward is I wanted him to be stopped," Denhollander said in a November interview with NBC News. "And I think that's being accomplished."
For many victims though, justice won't truly be served until Klages faces the legal repercussions of her alleged involvement with Nassar's crimes.