A North Carolina pastor is mad because he thinks this new boy doll will corrupt children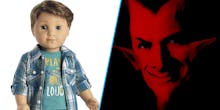 This week's news that the American Girl doll line was introducing its first "boy" doll, a chill, new dude-doll named Logan Everett, caused waves on social media — and had one North Carolina pastor concerned that the supple minds of America's boy babies are under attack. 
After learning about Logan the doll on a Good Morning America segment, Keith Ogden, a pastor at the Hill Street Baptist Church in Asheville, North Carolina, sent out an email on Wednesday to more than a hundred churchgoers bearing the subject line "KILLING THE MINDS OF MALE BABIES."
According to the Citizen-Times, Ogden seemed to think the introduction of a boy doll in the popular line was some kind of targeted attack on good, old-fashioned non-doll related masculinity. 
"This is nothing more than a trick of the enemy to emasculate little boys and confuse their role to become men," his email read.
"There are those in this world who want to alter God's creation of the male and female ... The devil wants to kill, steal and destroy the minds of our children and grandchildren by perverting, distorting and twisting [the] truth of who God created them to be."
Ogden has reportedly been vocal about social issues in the past, speaking out against same-sex marriage and violence in Asheville's low-income communities. Speaking to the Citizen-Times this week, Ogden said he thinks boys should not play with dolls.
"Now you are going to have little boys playing with baby dolls and that's not cool. ... We need to get back to our old values and morals," he said. "It's not natural for a boy to act like a girl. It's not natural for a girl to want to be a boy. ... You've got the government and people who placate this mess instead of telling little boys they can't change their biology."
Of course, the government does not appear to be involved in American Girl's decision to introduce Logan. A spokesperson for the brand, which is owned by toy giant Mattel, told the Citizen-Times that a "boy character" has been a top request from customers for "decades," and said that American Girl hopes Logan will appeal to boys and girls alike.