Nintendo Switch UI Leak: Early preorder shipments reveal dark mode settings and more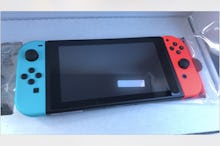 The Nintendo Switch release date isn't slated to hit until March 3. But that hasn't stopped a few lucky buyers from getting their Nintendo Switch preorders early. NeoGAF users ShiftaDeband and hiphoptherobot have posted photos and a video of their early Nintendo Switch arrivals, offering a detailed look at the system new UI, settings and menus. If you're a jealous Nintendo Switch pre-order buyer, join the club. If you didn't even put a preorder in, we're not sure what to tell you.
Nintendo Switch UI leak: Dark mode revealed in new video
The video, available for viewing here, showcases what to expect from the Nintendo Switch UI and menus. This, to some, may sound like the most boring part of the Switch but it's also something Nintendo has kept a tight lid on. There is one detail in particular that hadn't been revealed before — dark mode. 
Here's how it works:
Nintendo Switch UI leak: What else this early look tells us
Photos and video of the early Nintendo Switch units show us that moving through the menus is smooth and speedy. The UI sounds, combined with the capacitive touchscreen, appears to offer a more modern experience than the sluggish eShop on Nintendo's current handheld, the 3DS.
The eShop, unfortunately, requires an update before it would work on the Nintendo Switch. However, we did learn the Nintendo Switch will support profiles. Up to eight people can share a single Switch, presumably each having with own game saves and settings preferences. Each user is assigned a nickname and thumbnail icon of a Nintendo character or game icon.
The three-minute overview offers more info than we previously had about the Nintendo Switch UI, but the biggest disappointment lies in not being able to see a game actually operating on the Switch. Unlike some previous Nintendo consoles before it, the Switch comes without any games pre-installed. So these lucky preorder customers will probably still have to wait until March 3 to actually play any games on the Switch, just like the rest of us.
More Nintendo Switch news and updates
Check out our comparison photos sizing up the Switch to the Wii U GamePad, along with details on the console's price, release date, preorders, battery life and our hands-on review. If you're interested in the Nintendo Switch's games, here's info on the new Super Mario Odyssey, Legend of Zelda: Breath of the Wild, Splatoon 2, Xenoblade Chronicles 2, 1-2-Switch and the goofy boxing game Arms.