General Strikes, "Not My President's Day" rallies planned in NYC, Los Angeles, Chicago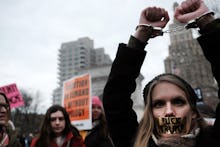 In the wake of Trump's election, protests are popping up so spontaneously and frequently that it can be hard to keep up. There are online listings, Facebook groups and newsletters to keep everyone informed, but sometimes you need all of that information in one place.
If you're looking for a major protest this weekend, we've rounded up a short list — though it's by no means complete — of some of the country's largest.
This weekend will be bookended by Friday's General Strike and Monday's Not My President's Day rallies, which are happening in multiple cities across the nation. Take a look below.
New York City
"As this event is one of solidarity, and we intend to use it to organize a more effective network of strikers in New York and the rest of the country. Our driving purpose is to engage with one another."
"Join the Sierra Club Beyond Coal Campaign and the Sane Energy Project for a workshop on the basic building block of organizing: the one-on-one conversation. This highly participatory workshop will help you reach new people and kick-start the movement we need. Although it will focus on climate change/renewable energy, the basic skills will apply to many different causes."
"Join us on Feb. 18 for a public organizing meeting to build a massive NYC showing for the International Women's Strike on March 8."
"There is no greater time than now to stand up for our Muslim brothers and sisters who are under increasing threat and pressure. ... Please join Russell Simmons, Imam Shamsi Ali, Rabbi Marc Schneier, Daisy Khan, Linda Sarsour and many other leaders from the community for this powerful event."
"Donald Trump is literally our president, but figuratively, he has attacked every value New Yorkers embody and does not represent our interests. We will be staging a rally at Columbus Circle to protest the un-American policies of the current White House."
Los Angeles
"On Feb. 17, 2017, organizers and leaders from across the United States are calling for our first ever National American General Strike. We are not professional paid protesters, but a wide array of concerned citizens who are deeply and gravely concerned about the direction of our country. We reject violence and are calling for a day of demonstration and civil disobedience."
"We don't want borders/walls. We won't comply. We won't be governed. We won't be silenced. We will survive and we will resist. We will build REAL sanctuaries that are inspired by Harriet Tubman's Underground Railroad. We will rebel against Trump's actions at every step of the way. We won't rely on elected officials to speak for the people! The people will speak for themselves.
"The action: Take the streets. Come hear from community members who have been directly impacted by Trump's attacks! We will also discuss the next steps in our efforts to organize our communities to defend themselves from the increasing attacks."
Monday, Feb. 20 — 9 a.m. to 1 p.m., 200 North Spring Street
"Donald Trump is literally our president, but figuratively, he has attacked every value Californians embody and does not represent our interests. We will be staging a rally downtown at City Hall to protest the anti-Californian policies of the current White House."
San Francisco
"The racist attack by Trump on the Mexican people, all immigrants and Mexican-Americans is escalating. The NAFTA agreement is part and parcel on the attack, not only on Mexican working people and farmers but on U.S. workers. It was pushed by the U.S. multinationals, the Democrats and Republicans and has harmed workers on both sides of the border."
"On the day of the strike, we will not go to work (unless absolutely necessary). We will not go to school (unless necessary). We will not spend any money (unless necessary). And we will gather at 555 California Street in solidarity! Hit them where it hurts — the wallet!"
Chicago
"Open to all people, we will join others across the country, in a nationwide call to action, making their voices heard and demonstrating against Donald Trump and his administration by not working, not attending school, not making any purchases and participating in demonstrations."
"In solidarity and unity with partner demonstrations throughout this country, we are proud to stage in Chicago – a sanctuary city – a rally to protest the policies and actions of the current White House. While Donald Trump is technically our president, we protest fiercely on this important day — in honor of the presidents who have come before him — his ability or intention to represent any of us in any real capacity."
Washington, D.C.
"We are calling on members of the D.C. community to come together in solidarity against the hateful rhetoric and actions of the current administration. Let us, the constituents of this president, stand in support of our brothers and sisters of different nationalities, backgrounds, races, religions, ability and sexual identity."