Donald Trump's pick to replace Michael Flynn just turned down the job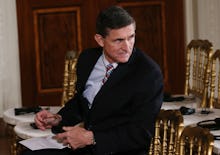 The man President Donald Trump selected to replace Michael Flynn as national security adviser turned down the job offer Thursday, according to multiple reports, over concerns he would not have the leeway to pick his own team.
Trump wanted Robert Harward, a retired vice admiral and Navy SEAL and a former deputy commander of the United States Central Command, to replace Flynn — who resigned in scandal Monday night.
But Harward refused the job after he was unable to replace K.T. McFarland as deputy national security adviser, according to CBS News.
CNN's Jake Tapper also reported that Harward turned down the job because of the chaos in the White House, calling the offer a "shit sandwich."
It's unclear who Trump will now pick to replace Flynn as national security adviser — a key White House official who serves as the chief adviser to the president on national security issues.