Trump signs measure repealing Obama administration's coal dumping restriction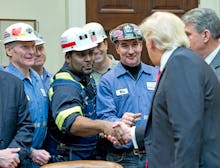 President Donald Trump signed a measure on Thursday repealing a regulation on the coal industry known as the Stream Protection Rule, which aims to stop miners from dumping coal into bodies of water.
According to CNN, the rule had been a last-ditch effort from former President Barack Obama's administration to carry over environmental protections into his successor's presidency.
Congress voted to repeal it in the past weeks via the 1996 Congressional Review Act, which gives legislators in both the House and Senate the power to overturn a rule issued by a federal agency — in this case, the Office of Surface Mining — so long as the president approved. 
It's a little-known and rarely used legislative tactic, but Vox reported earlier this month that Republicans planned to exercise it to nix as many as five Obama-era regulations.
Trump has long been speaking out about his plans to revive the coal industry during his presidency, a goal which the New York Times said in November had a "bleak outlook."
Though the outlet reported that coal miners' votes helped him land important wins in Pennsylvania and Ohio, their faith in Trump to save their jobs may be misplaced. In a country with a declining reliance on coal — given that its "no. 1 rival" is cheap and clean natural gas, according to the New York Times — the best Trump can do is chip away at restrictions on the industry, which he promised to do in his 100-day plan.
Ted O'Brien, a coal analyst at a prominent energy industry research firm, told the New York Times there's one thing Trump, the great deal-maker, can't change about the coal industry no matter how hard he tries: supply and demand.
"I don't think the Trump presidency will have a material impact on bringing coal miners back to work," he said in a November interview. "He may eliminate the regulatory overhang, but I have a hard time seeing a surge in coal demand."