Mike Dubke will reportedly be named to White House communications director position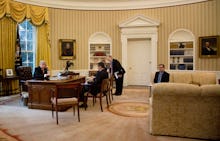 CNN reported early Friday morning that Mike Dubke, the founder of Republican-focused Crossroads Media, is expected to be named as communications director for the White House.
Crossroads Media, a strategy group that negotiates media buys for Republican campaigns on national, state and local levels, has worked for the Republican National Committee as well as American Crossroads, a SuperPAC founded by Karl Rove. But while Dubke's company claims to have provided more than $200 million in media buys to Republican leaders, helping "national energy and financial groups to promote their legislative agenda in Washington, D.C.," CNN reported that some longtime Trump loyalists would have preferred a veteran from Trump's campaign team.
"Dubke and his Crossroads friends did everything they could to kill the Trump movement and failed," an unnamed source told CNN.
Carl Higbie appeared to be interviewing for the same position when rumors spread that had been interviewing for Sean Spicer's job earlier this month. The hiring would significantly lighten Spicer's workload, as he has had been shouldering the duties of both press secretary and communications director — positions normally held by two staffers.
The official announcement from the Trump administration could come as early as Friday, as officials deal with the backlash from a heated press conference Trump held Thursday.