Nicole Kidman, Lenny Kravitz and 5 other surprising celebrity engagements that were called off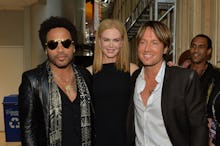 This is not fake news — Nicole Kidman and Lenny Kravitz were once engaged. The 49-year-old actress shocked fans when she revealed a juicy piece of her dating history in an interview with The Edit. 
After her divorce from Tom Cruise and prior to marrying country singer Keith Urban, Kidman and the "American Woman" singer were an item. Things got so serious, apparently, that they were engaged to be married. Kidman didn't reveal why they ended their engagement, but she went on to wed Urban in 2006.
In honor of Kidman and Kravitz' once-upon-a-time engagement, we're taking a walk down memory lane with other forgotten celebrity relationships from the past.
Ryan Reynolds and Alanis Morissette
Ryan Reynolds and goddess Blake Lively are so perfect together, it's hard to remember a time when they weren't a couple. But before Reynolds married Lively in 2012, he was married to Scarlett Johansson — and before that, he was engaged to singer Alanis Morissette. The two split in 2007, and Reynolds became the inspiration for Morissette's 2008 album, Flavors of Entanglement.
Julia Roberts and Kiefer Sutherland
Julia Roberts was once a runaway bride — and 24 alum Kiefer Sutherland was the poor groom left at the altar. Get ready for this complicated story: Roberts and Sutherland met on set of the 1990 movie Flatliners and completely hit it off. Roberts called off her engagement to Dylan McDermott and Sutherland divorced then-wife Camelia Kath. Roberts and Sutherland were supposed to wed in 1991, but the nuptials were canceled three days before the ceremony. 
On the day of the wedding, Roberts was photographed with Sutherland's friend and The Lost Boys costar Jason Patric.
Brad Pitt and Gwyneth Paltrow
"What's in the box?!" At one point, there was an engagement ring in a box for Gwyneth Paltrow, who met Brad Pitt on set of the 1995 film Seven. They were engaged in 1996, but ended their relationship the following year. In 2015, Paltrow told Howard Stern that she "wasn't ready" and that Pitt was "too good" for her.
Evan Rachel Wood and Marilyn Manson
Before encountering the man in black on Westworld, Evan Rachel Wood was with a different man in black — Marilyn Manson. The two met in 2006, when Wood was just 18 years old and Manson was still married to Dita Von Teese. They got engaged in 2010 but split by 2011.
Jennifer Lopez and Ben Affleck
Ah, Bennifer. Jennifer Lopez and Ben Affleck were engaged from 2002 to 2004, but never got the chance to walk down the aisle. We'll forever remember their romance from Lopez's "Jenny From The Block" music video.