Jimmy Fallon's Donald Trump press conference sketch basically wrote itself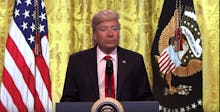 Donald Trump's press conference on Thursday was so bizarre and unhinged it's hard to imagine a parody taking it to greater lengths. Nevertheless, The Tonight Show and host Jimmy Fallon decided to give it a shot for their cold open Thursday night. 
Fallon — who infamously used his own tone-deaf Trump interview to ruffle our future POTUS' orange hair — starts of his version of the press conference by, unsurprisingly, blasting the media. 
"First of all, you're all fake news, I hate you all very much, and thank you for being here," Fallon's Trump says. "First question? No. Next!" 
Fallon's Trump impression is pretty spot-on, skillfully adapting the Commander in Chief's cadence, hand gestures, hunched back and general scowl into a hilarious performance. However, and we mean this seriously, Fallon's version of the Trump press conference isn't all that far from the real thing. 
"We've made so much progress," Fallon adds, sounding nearly identical to POTUS' empty assurances that he's succeeded in his first month on the job. "In fact, if you ask any American, they'll say that I've managed to make the last four weeks feel like four years. Four more weeks! Four more weeks! Four more weeks!" 
The bit is full of falsities, with Fallon deflecting questions about Russia and former national security adviser Michael Flynn (though Trump didn't actually whip out a Magic 8-Ball to answer questions). Still, this is certainly an improvement over Fallon messing around with Trump's hair. If he decides to be more overtly critical of Trump and his chaotic administration, perhaps Fallon could reclaim the late-night ratings throne over one of Trump's sharpest critics, Stephen Colbert.  
Watch Fallon's take on the batshit Trump press conference below: 
Mic has ongoing TV coverage. Please visit our main TV hub.