Meryl Streep's Golden Globes speech was the soundtrack for this diverse show at London Fashion Week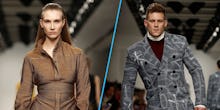 We already know that New York Fashion Week didn't shy away from politics this season, what with speeches at shows and feminist statement T-shirts coming down the catwalk. 
And now it looks like other fashion weeks have taken note. 
For the opening show at London Fashion week on Thursday, the very day NYFW came to a close, politics took center stage yet again.
At the Teatum Jones show, it was all about celebrating diversity, with two disabled models walking in the show. The first was Kelly Knox, who was born without the lower half of her left arm.
The second was Jack Eyers, whose right leg was amputated when he was 16-years-old. 
Then, for the soundtrack, speakers blared a mix of body positive quotations as well as an excerpt from Meryl Streep's stirring anti-Trump speech at the Golden Globes, in which she called out Donald Trump for mocking a disabled reporter. 
"It was that moment when the person asking to sit in the most respected seat in our country imitated a disabled reporter," Streep's voice was heard saying during the show. "Someone he outranked in privilege, power and the capacity to fight back. It kind of broke my heart when I saw it, and I still can't get it out of my head, because it wasn't in a movie. It was real life." 
As the designers of Teatum Jones told Telegraph, the show was about showing "a love of human stories and rejecting the idea of the perfect human form."
"Able and disabled-bodied people don't have different desires when it comes to fashion," Teatum Jones designer Cat Teatum told Telegraph. "They want great textiles, interesting shapes. Kelly and Jack are dressed in the collection like the other models. We've just had conversations with them about how to adapt their clothing. The overriding message is that we're all the same." 
And indeed, the two disabled models who walked were dressed no different than any of the others, still wearing neat suits and smart-looking dresses, just like everyone else. 
Other body-positive messages heard during the show included: "Your body is not an apology."
"We are perfect because of our imperfections."
And "This body wasn't made to meet your definition of desirable." 
With this being the very first show of London Fashion Week, it'd be safe to assume that this won't be the last time designers look to American politics for inspiration from across the pond.