Twitter dragged Matt Damon for 'Great Wall' whitewashing with #ThankYouMattDamon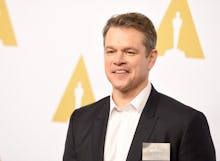 On Thursday, ahead of the release of the controversial film The Great Wall, Twitter users joined comedian Jenny Yang in offering a tongue-in-cheek appreciation of actor Matt Damon, star of the film, which debuted in theaters Friday. 
The film has drawn ire from the Asian community since the trailer was first released in July.  Damon stars in the thriller, which is set in China and is about China's most iconic piece of architecture. The film, which critics do not like very much, is a historical fantasy about a gang of warriors who come together to defend the wall.
The sarcastic outpouring of affection on Twitter is the latest iteration of criticism for the film. Among the most vocal in her criticisms was Fresh Off the Boat actress Constance Wu, who slammed the film's white savior narrative. Recently, several Asian actors and actresses have also called out whitewashing in Hollywood more generally.
"Our heroes don't look like Matt Damon," the actress said in a long message on Twitter. 
The hashtag started after Yang tweeted a sarcastic thanks to Damon during a screening of the film.
"Thank you for all that you've done to save the Chinese people, Matt Damon," Yang tweeted.  
"One time, I was having trouble decorating my house, and Matt Damon came and feng shuied it for me #thankyoumattdamon," Twitter user Teresa Wang responded.
Then the jokes started rolling in.
Because game recognizes game, a lot of members of Black Twitter shouted out Asian Twitter for their high-quality dragging of Damon. 
Let this be a lesson to us all: It is possible to be shady and polite at the same time. Thank you, Twitter.