Trump Approval Rating Today: Where Gallup and other polls have the president now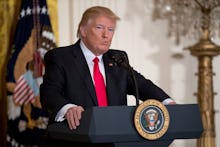 President Donald Trump lambasted the press on Thursday for depicting his administration as being mired in "chaos" when in fact it is operating like a "fine-tuned machine" — a bold claim, given that he made it while announcing his replacement pick for labor secretary after his previous nominee, Andrew Puzder, was forced to withdraw from consideration over unearthed domestic abuse allegations.
Indeed, the Trump administration has had a rocky go of it recently — and it is being reflected in recent approval polls.
A Gallup poll released Friday showed Trump had just a 40% approval rating — consistent with a Pew Research Center poll released Thursday that had 39% of adults approving of the president's job performance thus far. 
Rasmussen Reports — which tends to cast Republicans in a more favorable light than other surveys — was an outlier among major polls, notching Trump's approval at a positive 55%. Trump cited this poll during his combative press conference Thursday, despite 10 other polls showing Trump below 50% approval. 
Negative polls, after all, are "fake news."
How Trump's numbers measure up
The numbers in the Gallup and Pew polls are not good for Trump.
According to Gallup, Trump's 40% approval rating is a whopping 21 points lower than the historical average for president's at the one-month mark in office. It's also 11 points worse than the next lowest first month approval rating.
Additionally, the five percentage point sink in approval over Trump's first month puts him at odds with the historical trend — since Dwight D. Eisenhower, presidents have enjoyed an average one-point gain in popularity over their first month in office, according to Gallup.
As for the Pew poll, the strong disapproval Trump is facing is already stronger than it was for Barack Obama during any point in his presidency. George W. Bush only faced stronger disapproval in the twilight of his presidency. 
What's remarkable about the Pew numbers is not just Trump's low approval rating — it is the intensity with which respondents either approved or disapproved of his job performance, and how cleanly those attitudes split along party lines. 
A full 75% either strongly approved or strongly disapproved of the president's job performance so far, according to Pew, and Trump has seen very little crossover support from Democrats.