Twitter roasts photo of a "Trump Caucus" for being overwhelmingly white and male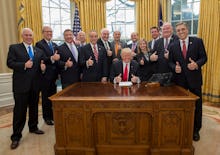 On Thursday,  President Donald Trump met with early Republican congressional backers for a listening session. The session included discussions about Michael Flynn's resignation, the president's meeting with Japanese Prime Minister Shinzo Abe and "the fake news media."  
Members of Congress in attendance included Rep. Chris Collins (R-N.Y), Rep. Duncan Hunter (R-Calif.), Rep. Lou Barletta (R-Pa.) and Rep. Tom Marino (R-Pa.) among others. The lone woman in the pic is Rep. Marsha Blackburn (R-Tenn.).
"This is really our Trump caucus reconvening for the first time in a little bit, but our first meeting was the first part of March [2016]," Collins said, according to the White House. "Duncan Hunter and I both endorsed you on Feb. 24, a week from tomorrow. So it's the one-year anniversary. But this is the Trump caucus, reconvening, and we're just so honored you're taking time out of your busy schedule to be with us." 
Immediately after their meeting, the nearly all-white male congressional members — and Vice President Mike Pence — posed behind Trump with their thumbs up for a photo. The Trump team uploaded the photo to Twitter with the hashtag #MakeAmericaGreatAgain. 
Then the "Trump Caucus" meme was born. Take a look at some of the funniest tweets.