Trump's 3 trips to Mar-A-Lago as president cost an estimated $10 million in federal funds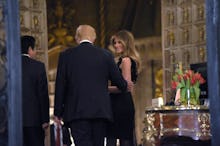 President Donald Trump plans to spend the coming weekend at his Mar-a-Lago property in Palm Beach, Florida — and it will be the third weekend in a row that the president spends at his Florida club. As a private citizen, Trump readily mocked former President Barack Obama for what he appeared to consider excessive taxpayer-funded travel and vacations. 
But, as the Washington Post reported on Thursday, just three of Trump's trips to Mar-a-Lago will total an estimated $10 million in federal money — and if he keeps up the pace set by his first month in office, Trump will outspend Obama by a wide margin.
How could three weekends at Mar-a-Lago cost the country $10 million? Trump may have been a jet-setter before he took office, but being president comes with a host of logistical and security concerns that he didn't have to deal with before, and all the protection that Trump now requires is on the taxpayers' dime. 
The Washington Post used an October report on the costs of White House travel to reach the $10 million estimate — which includes the costs of Coast Guard protection off the nearby shore, the costs of reimbursing local police for additional security and traffic needs and other costs associated with transporting and protecting the country's highest official. When Trump spent Super Bowl weekend in Palm Beach, the Post reports, the Secret Service paid for everything from tents to golf carts to bathroom facilities. And Air Force One, the president's official plane, costs an estimated $200,000 for every hour in the air.
The costs of his Florida trips come in addition to other security costs unique to Trump's administration, like the $500,000 per day that it costs New York City to protect Trump Tower, according to the Washington Post. 
A White House spokesperson defended Trump's frequent trips, telling the paper that Trump works "every day of the week," no matter where he is. But Trump's three consecutive weekends in Florida go against his own promises. As he told the Hill in 2015, speaking about what he might do if elected president, "I would rarely leave the White House because there's so much work to be done."