Sara Ramirez called out ABC's 'The Real O'Neals' for its biphobic jokes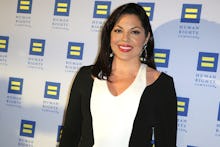 Out bisexual Sara Ramirez, formerly of Grey's Anatomy, tweeted her disapproval of a joke from a Jan. 17 episode of ABC's queer-themed comedy The Real O'Neals, the New York Daily News reported. 
The joke, delivered by out gay character Kenny O'Neal, compared bisexuality to having "webbed toes" or "money problems." 
Ramirez called on ABC to do better in its representation of bisexual identity.
"And as someone who worked 4 them 4 10 years+, am truly disheartened & disappointed quite frankly," she said. "I will invest my brand where I'm respected."
Ramirez then tweeted out a Change.org petition asking The Real O'Neals to rethink some of its biphobic storylines, as well. 
"The show already pretended we didn't exist and fed into other negative stereotypes such as 'the slutty bisexual,' when Gloria, who in the episode before was revealed as bisexual, slept with someone after getting tired of waiting for a date with Kenny's dad," the petition reads. "I was willing to overlook the other things, but this 'joke' has crossed the line saying bisexual teens like me are worse than genetic abnormalities and financial problems!" 
It continues, "'Jokes' like this increase the ridiculous amount of biphobia we experience in our lives and I am calling on the American Broadcasting Company to step in and change this!"
PFLAG, an advocacy organization for parents of queer children, partnered with ABC to help come to life the episode come to life. In January, the group tweeted out a statement about the episode.
"We were so focused on the family acceptance portion of the episode that we completely missed the joke," Liz Owen, director of communications for PFLAG National, wrote. "In hindsight, we should have caught it and we blew it."
Lead actor Noah Galvin, who plays out teen Kenny O'Neal, tweeted out an apology on Jan. 18, as well, however it has since been deleted from his Twitter.
Ramirez's advocacy for the bisexual community underscores how often bisexual people have to step in to fight against myths and misinformation about the bisexual community.